If you are like me you don't always use your trail cameras in the same place or in the same ways.
The main reason most of us use trail cameras is to scout in preparation for hunting season. This could mean using it on either public or private hunting land. Other times you might use trail cameras as a security camera to keep an eye on your property when you aren't around.
You might also post your trail camera in different ways depending on the situation you are using it in. Sometimes you might have the camera posted just a few feet off the ground. Other times you might post it in an elevated position and point it down at the area you wish to monitor.
Sometimes you might have a very specific location you wish to monitor. Other times you might not have any idea which direction the activity might come from.
So What Does A Trail Camera Need To Be Versatile Enough To Be A Good Choice For Virtually Every Situation?
Not every trail camera has the same features. So having a super versatile trail camera is all about making sure you buy one that has the correct features and specifications.
Things you should look for include:
High-Quality Images and Videos – This is always important, but especially so if the camera is being used for security purposes.
No Glow IR flash – Whether you are using it on public land or as a security camera having no glow flash will help to keep the camera hidden at night.
Fast Trigger Speed – Helps to make sure that even fast-moving subjects are captured on camera.
Wide Detection Angle – This is great if you aren't sure where the activity will be coming from
Wireless capabilities – This allows you to see and download pictures as well as to change the camera's settings without having to walk up to the camera or climb onto a ladder (if the camera is mounted in an elevated position).
Camouflage exterior (most trail cameras already have this)
Luckily, the Campark T86 is one of the trail cameras that covers all the bases.
Introducing the Campark T86 Trail Camera
The Campark T86 Wireless Trail Camera is one of the most versatile tools you can add to your hunting arsenal. It is also a great choice to help you meet your property surveillance needs.
In addition to its wireless capabilities, the T86 has a lot of other customizable high-end features that will allow it to thrive regardless of where you plan to use it.
Pros
24MP camera
1296p HD video resolution
WiFi & Bluetooth connectivity
No Glow flash
Camera controlled directly from a free app on your phone
2.3-inch color TFT LCD screen
Rated IP66 waterproof and durable enough to withstand extreme weather conditions
Cons
User manual could be a bit better
The battery life might be less than you want – especially if all the settings are maxed out and you aren't using high-quality batteries
See Current Sale Price and Learn More Here
Review of Features and Benefits of the Campark T86 Camera
Camera
The T86 trail camera manages to stand out from similar outdoor gadgets due to its high-quality camera. It has a photo resolution of 24 megapixels and also has an adjustable shutter speed with settings of 1/15, 1/20, 1/30 to further help add to the clarity of the pictures that are taken.
The camera records super HD videos, which means that the video resolution is 1296p.
The clarity of both the pictures and videos is one of the unique elements of this camera that help to make it suitable for both hunting and home surveillance.
Plus, in addition to the standard photo and video modes, the T86 also has the photo+video mode, which, when activated, will take a picture and then records a video.
Built-In Wi-Fi And App Control
One of the selling points of this trail camera that gives it an edge over others in its category is the built-in Wi-Fi and Bluetooth connectivity. It also has a free smartphone app, Hunting Camera Pro, that once installed will allow you to connect to the T86 and control it wirelessly. When using the app you will be able to view and download photos and videos directly from the camera itself in addition to changing the camera's settings. The app is available for both IOS and Android devices.
In order to connect to the camera wirelessly, you first connect to the camera via Bluetooth using your smartphone. Through the Bluetooth connection, you can turn on the camera's wifi. At that point, you will need to connect to the camera using its wifi signal in order to view pictures and videos as well as to change the camera's settings using the Hunting Camera Pro app.
If the wifi were left on continuously it would drain the battery more quickly, which is why you need to go through the process of using Bluetooth to turn on the wifi. Having Bluetooth always be available is far less of a drain on the battery than having the wifi constantly operating.
Does the Camera Automatically Send Pictures to your Smartphone?
No. If you need a trail camera that can automatically send pictures and videos to your phone or email account you will need to buy a cellular trail camera. If you want this feature we have identified several good cellular trail camera options for you to consider.
Cellular trail cameras will not only cost more than wireless trail cameras, like the T86, but they also require a data plan in order to have cellular service, which is an additional recurring expense.
Will the Camera Connect to Your Home's WiFi Signal?
No. This is another misunderstanding about WiFi-enabled trail cameras. These cameras actually create their own wifi connection that other devices can use to connect to it, but it doesn't connect to other wireless networks or connect to the internet in any way.
Motion Sensors
The motion sensor is a vital element to any trail camera, as it detects disturbances in the surroundings, which triggers the recording process. The Campark T86 has 3 motion sensors: a central sensor and two side sensors. The central sensor has a detection angle of 60-degrees, while the side sensors have 30-degrees each – giving the T86 a huge 120° detection angle.
The sensors have a detection range of 65 feet, which results in huge area coverage when combined with the detecting angle. You can also set the PIR sensors to your preferred sensitivity level choosing from high, medium, and low settings. In case of false triggers, you may turn the side sensors off.
Trigger Speed
This trail camera has a trigger speed of 0.3 seconds, which is very fast compared to a lot of other trail cameras. Having such a fast trigger speed means that it will be really hard for anything to pass by the lens of this camera without being captured.
Flash
The T86 trail camera has 36 pcs 940nm LEDs with a flash range of 65 feet for night photography. The no glow flash won't cause any disturbance and scare away the objects you are monitoring.
Since the no glow flash isn't detectable it won't give away the location of the camera at night. This opens up options for you to use the camera in ways or in locations where you want to keep its location hidden.
Time-Lapse
The time-lapse feature allows you to take photos and videos at set intervals that you select. This is great if you want to monitor a large area that frequently has a lot of activity that is beyond the range of your PIR sensor.
If you decide to use the time-lapse feature it will turn off the camera's PIR sensor. In other words, when something comes into the range of the PIR (motion) sensor the camera won't be triggered to record videos or take pictures while the time-lapse feature is on. The camera only operates at the time-lapse intervals you selected. In case you are wondering, this is how the time-lapse feature works for most trail cameras that have this feature.
LCD Screen
The Campark T86 has a 2.3-inch color TFT LCD screen, where you change its settings and view the recordings. As with all cameras that have color LCD screens, it helps to make the camera setup quick and easy in addition to allowing you to preview images and videos on the camera itself when you aren't using the compatible smartphone app.
Memory Card (SD Card)
Campark states that the T86 can support Class 10 SDXC cards with a capacity of up to 128GB. You may also use a micro SD card with an adapter. We recommend using the SanDisk 128GB Extreme SDXC  memory card.
As with all memory cards, you will need to format them before using them in the T86 for the first time.
Password Protection
The password protection feature allows you to restrict the use of the camera by setting a password. Anytime you turn it on, you have to key in the password.
Batteries
The Campark T86 needs 8 1.5V AA batteries. For the best battery life and top performance, especially in colder temperatures, you should buy Energizer Ultimate Lithium batteries.
Input For External Power Supply
This Campark model does not come with an external power supply unit (most trail cameras don't). However, if you really want to extend your battery life it is good to know that it has an input to accommodate one. If you want to use an external power supply with this camera you will need a 6V power supply unit with at least 2A, with a connector that has a 3.5mm external and 1.35mm internal diameter.
It is also worth noting that if you decide to use an external power supply it could make the trail camera easier to spot, which might be an issue if you want to keep the camera's location hidden.
If you think that you might want an external power supply for the T86 you should check out Campark's BC179 Solar Panel, which is shown above. It is made specifically for trail cameras. You can see the current price of the BC179 Solar Panel here.
Image Stamp
The image stamp shows you the details of the environment when the pictures and videos were recorded. The timestamp on the Campark T86 will show you the camera name, temperature, time and date, and the moon phase.
Included Accessories
The following accessories/items are included with the T86 from Campark
A mounting belt
A threaded tripod
Three screws (for the tripod)
A USB cable
A user manual
These items will help to make setting up the camera and mounting it in the field a quick and easy process.
Areas of Use
The Campark T86 trail camera's target market is hunters who want an advanced no glow trail camera with wireless connectivity. The no glow flash combined with the ability to connect to the camera wirelessly helps to make it more versatile.
You should feel good about using it on both public and private hunting land as well as using it for property surveillance purposes. In addition, if you want to post a camera at an elevated position and point it downward at the area you are monitoring but don't want to climb a ladder every time you check it, the T86, with its wireless functionality, will be a great choice.
Price
At first glance, the Campark T86 may seem to be too pricey, but when you look at its features, you know you have an advanced piece of equipment. The high-quality camera, no glow flash, 3 PIR sensors, Bluetooth and WiFi connectivity, and other customizable features make the T86 a tremendous value.
Depending on any sales, expect the T86 to be a mid-range priced camera, but very competitively priced when compared to other similarly equipped models.
Other Options
Campark T85 Trail Camera With WiFi and Bluetooth
The Campark T85 is pretty much the twin of the Campark T86. They are so similar I couldn't figure out what the difference was when comparing the specs of these two cameras. So I reached out to Campark to help confirm my suspicions.
Campark's support staff confirmed what I suspected and informed me that, "The main difference between the model T85 and T86 is their different appearances. They have the same firmware."
So you should feel free to compare the Campark T85 and T86. If one has a better price than the other or if you think the camo exterior of one of these cameras will blend into the surroundings better than the other go ahead and buy that camera. You are essentially getting the same camera either way.
You can see the current sale price of the T85 here.
Campark T80 Trail Camera With WiFi and Bluetooth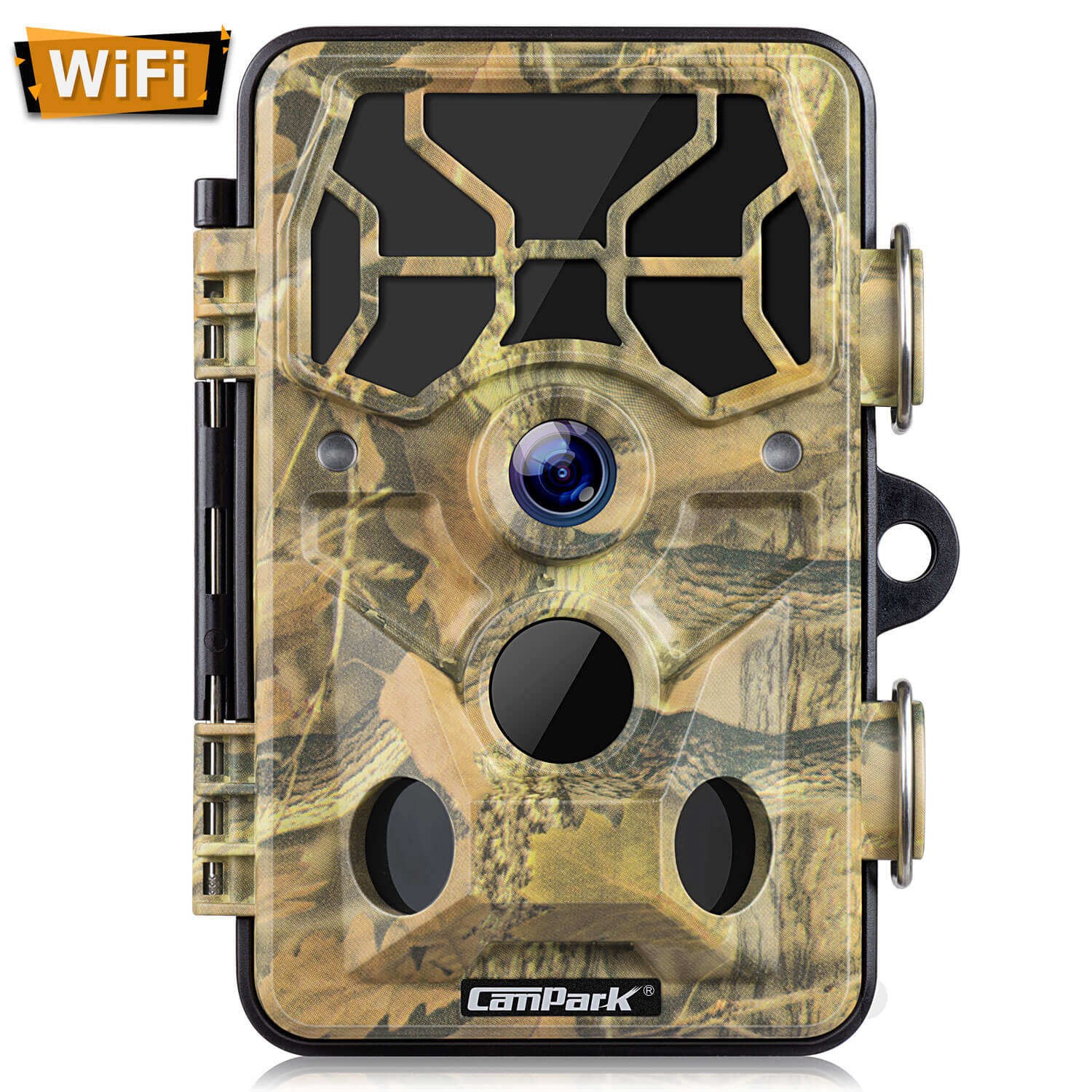 If you love the Campark T86, but you don't want or need the no glow flash, you can get the Campark T80 and save yourself some money. In addition to the low glow flash and having a different camo exterior, the other difference between these two cameras is the fact that the T80 has a separate remote that you use to turn the wifi on and off, whereas the T86 allows you to do it all from your smartphone. Other than that, these trail cameras share the same specs. If you want to learn more, you can read the full review we did on the Campark T80. Otherwise, you can check the current sale price of the Campark T80 here.
APEMAN H55 Trail Camera
If you like the Campark T86, but really don't need the wireless connectivity the APEMAN H55 is a great option to consider. Other than not having wireless connectivity and only having 1080p video resolution, the big difference between the APEMAN H55 and the Campark T86 is that the H55 only has one PIR, which limits its detection angle to 90 degrees instead of the huge 120° detection angle that the 3 PIRs give the T86. Beyond those things, the APEMAN has almost identical features to the Campark, but usually for less money.
APEMAN often runs sales on their website and offers free shipping to the USA, which makes their cameras even more attractive. You can check the current price of the APEMAN H55 here.
Final Thoughts
The full-featured Campark T86 brings versatility to your trail camera usage. Whether you are talking about its no glow flash, wireless connectivity, super-wide detection angle, 24MP camera, or its other customizable features, the value-priced T86 is ready for whatever task you throw at it.
You can check the current sale price here.
Last update on 2023-09-24 at 20:46 / Affiliate links / Images from Amazon Product Advertising API