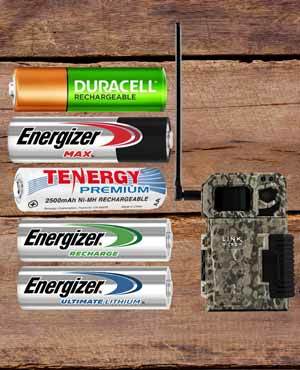 It might seem like the toughest part about trail cameras is choosing the best camera to fit your needs. While that is probably true, choosing the best batteries to power your trail camera is another important decision if you want your trail camera to be able to perform at an optimal level.
Why The Battery You Choose For Your Trail Camera Is Important
Most trail cameras today will run on AA batteries. So when most people get their first trail camera the initial reaction is to buy whichever AA batteries are on sale, but the fact of the matter is that the batteries you choose to put in your trail camera will not only determine how long each set of batteries will last, but it can also impact how well your trail camera performs. Choosing the wrong battery can even determine if your trail camera will work at all in extreme weather conditions. In addition, certain types of batteries may not work in your trail camera at all.
Our Favorite
Name
Energizer Max AA Alkaline Batteries
Energizer Ultimate Lithium AA Batteries
Tenergy Premium Rechargeable AA Batteries
Name
Energizer Max AA Alkaline Batteries
Our Favorite
Name
Energizer Ultimate Lithium AA Batteries
Name
Tenergy Premium Rechargeable AA Batteries
What Are Some Things To Consider When You Are Trying To Buy The Best Trail Camera Batteries?
Voltage
The voltage produced by the battery you choose and how long it can deliver that voltage before it starts to drop off is one of the most important things to keep in mind as you decide which batteries to buy for your trail camera.
Most trail cameras are designed to run off a certain voltage and have a minimum power requirement in order to operate. So when the voltage a trail receives from the batteries drops below a specified level many models are designed to shut off automatically once the voltage goes below this minimum level (even though there may still be power remaining).
So let's break this down a bit so you can better understand how this whole voltage thing works. You can use a simple formula to understand how to get the total voltage.
# of Cells (batteries) X Volts they Produce = Total Volts
Example
If your trail camera is designed to work off of a 6 volt power supply:
4 batteries X 1.5 volts each = 6 volts
Many manufacturers of 6 volt trail cameras will program in a shut off voltage of around 5 volts

So in other words, when the voltage drops to 1.2 volts per battery the trail camera will shut itself off.

4 batteries X 1.2 volts each = 4.8 volts
Differences In Voltage Between Batteries
So here is the problem when choosing batteries for your trail camera. Different types of batteries (Alkaline, NIMH Rechargeable, and Lithium) can start off at different voltage levels when they are new, or recently charged (in the case of rechargeable batteries). To make it even more complicated these different types of batteries don't all start dropping off in voltage at the same time or rate. So let's look more closely at these different types of batteries.
Alkaline Batteries
Start out with a power level of about 1.5 volts but begin to decrease in power as soon as you place them into your trail camera or other devices.
Voltage drops to approximately 1.2 volts 20% through its usage cycle and will continue to decrease from there.

Usually the type of battery that drops to 1.2 volts the fastest

The voltage level continues to drop in proportion to the amount of time in the field and the number of pictures/videos taken.
As the voltage continues to drop the flash range will steadily decrease and the images and videos will look darker and darker until the camera eventually shuts off due to a lack of sufficient voltage.
NIMH (Ni-MH) Rechargeable Batteries
Fully charged, many brands will produce about 1.4 volts.
Voltage decreases to 1.2 volts very quickly. However, once they drop to 1.2 volts they are able to consistently hold that voltage and deliver 1.2 volts throughout the remainder of its usage cycle.

By comparison, alkaline batteries will continue to experience a steady decline in voltage once it hits 1.2 volts.

Trail cameras that aren't designed around a 1.5 volt per cell requirement and don't have an automatic shut off could continue to work just fine off of a 1.2 volts (albeit with diminished flash performance). However, this isn't the case with a lot of trail cameras so consult with your owners manual or be prepared to change batteries more frequently (as you would with alkaline batteries).
Not all rechargeable batteries are made the same. Buy high-quality batteries with the highest capacity (we discuss capacity below) you can find in order to get the best performance and longest battery life.
FYI… Some trail camera manufacturers will actually say that you shouldn't use rechargeable batteries in their cameras. This is because they know that rechargeable batteries aren't going to be capable of delivering the voltage that the camera needs to operate effectively.
Lithium Batteries
Lithium batteries will often produce around 1.6 volts when new.
Will consistently produce between 1.5 and 1.4 volts for the majority of its life cycle.
Doesn't drop below 1.2 volts until almost the very end of its life cycle

Takes the longest to drop to 1.2 volts of all 3 battery types (Alkaline, NIMH Rechargeable, and Lithium)
Higher Voltage Can Mean Better Performance
As time passes and the voltage decreases you will notice that the flash won't illuminate the area in front of the camera as brightly or as far as it did when the batteries were new and first placed into the camera. Just as decreasing voltage produces weaker flash characteristics, increased voltage produces a stronger flash with brighter pictures and a longer range.
So if you select batteries that operate at a higher voltage throughout their entire life you will notice better results with the pictures and videos your camera captures at night.
Discharge Rate
Even if they aren't being used, batteries lose energy over time. Knowing how fast this self-discharge happens for different types of batteries will help you know how long you might expect a set of batteries might last before they run out of power.
Another thing to remember is that as batteries self-discharge some types will start to give a lower voltage, which will negatively impact the performance of trail cameras.
Battery Capacity
Another important thing to think about is battery capacity. In other words, capacity refers to how much energy is stored within the battery to begin with.
Most trail cameras use AA batteries, but just because you are buying new batteries doesn't mean that the capacity of all the available AA batteries is the same. The battery capacity can vary between brands as well as battery types (alkaline, lithium, and rechargeable).
When you look at the packaging for individual batteries or on the batteries themselves you will commonly see a value for milliampere hour (symbol: mA⋅h, mA h, or unofficially mAh). The larger the value that is listed the more capacity the battery has.
Weather
Another important thing you need to think about is the weather conditions your trail camera will be in once you post it out in the field and turn it on. More specifically, you want to think about temperature extremes.
Batteries create chemical reactions in order to produce electricity and the outdoor temperature can have a great impact on these chemical reactions – especially in temperature extremes. For example, extreme heat causes the battery to work harder and lose energy, which shortens battery life. Conversely, when in extremely cold temperatures battery performance can also suffer. Due to the fact that each type of battery is made from different materials, the chemical reactions that take place in each battery type are different. This difference in chemical reactions is why lithium batteries can operate in much colder temperatures than other types of batteries.
The differences in cold weather performance is probably the biggest thing you need to think about in terms of weather when choosing a battery for your trail camera. However, if you don't live in a cold climate or don't plan on leaving your trail camera out in the field during the winter months when temperatures can drop well below freezing, you can get by with a battery that doesn't perform as well in the cold.
Cost
Remember that the initial cost of batteries isn't everything. Each type of battery has a different initial cost, but you want to think about how much you will be spending in the long run and if a certain type of battery will or won't be able to meet your needs.
Think about how convenient it is for you to check and change the batteries in your trail camera and compare that with the expected battery life for the type of battery you are considering. For example, if you live a long distance away from where you post your trail camera you might come out money ahead by using more expensive batteries with longer life to avoid the expense of having to travel long distances to change batteries. On the other hand, if it is convenient for you to check and change the batteries in your trail camera it might make more sense for you to go with a money-saving option, especially if you don't plan on having your trail camera in the field during extremely cold winter weather.
Types of Batteries
There are many brands of batteries out there. There is Energizer, Duracell, store brands, and everything in between. Each of these brands will have their own specifications. However, there are several things to know about each TYPE of battery that will help make your battery buying decision easier.

Standard Alkaline Batteries
Alkaline batteries are found everywhere from your corner gas station, big box stores, and battery specialty shops. Not only are these batteries the easiest to find, but they are also the lowest priced option out there.
These batteries will have the shortest useful life in the field and consistently lose voltage as they age and the camera continues to capture videos and pictures. They also don't perform well in the sub-freezing weather. We also wouldn't suggest using alkaline batteries in cellular trail cameras since they use more energy than traditional trail cameras.
It might sound like we think you should never use alkaline batteries in your trail camera, but that isn't always the case. While alkaline batteries are not our favorite we can see at least one situation where we would feel comfortable using them. That situation would be if we wanted to post a trail camera in the field for a couple of months prior to and during hunting season (assuming that we aren't expecting the temperature to fall well below freezing). If you decide to use alkaline batteries in your trail camera make sure that you buy high-quality batteries with a high capacity.
Pros:
Lowest priced
Easiest to find
Cons:
Don't perform well in colder weather
Lose voltage over time (doesn't remain constant)
Shorter life span
Only good for 1 use
NiMH Rechargeable Batteries 2500 mAh
Nickel Metal Hydride (NiMH) rechargeable batteries have a lot of good things going for them. That being said, NiMH batteries simply won't work for some trail cameras. Like a lot of products, there are both good and bad about them.
So let's get the bad out of the way first. If you have a trail camera that needs the batteries to be able to produce more than 1.2 volts then rechargeable NiMH batteries aren't for you. As discussed earlier many cameras will simply shut off if they don't get the voltage they require. That is why you should check the owner's manual for your trail camera if you have any doubts because some trail camera manufacturers will tell you not to use rechargeable batteries in their cameras.
The good news is that if your trail camera can use rechargeable batteries you can save a lot of money over time with rechargeable batteries. Yes, they will cost more initially, but the fact that you can recharge them 500+ times the savings you will be immense. Plus, unlike other types of batteries that are only good for one use and then end up in the landfill or recycling center, NiMH batteries are a choice that is more environmentally friendly.
That being said, if your trail camera can use rechargeable batteries you will need to be OK with lower performance. As we discussed earlier lower voltage numbers mean less flash brightness, less flash range, and reduced sensitivity. For many people that isn't a big deal, but for others, it is very frustrating. If you think that you might fall into that frustrated group and want to squeeze the most performance you can out of your trail camera you might want to avoid NiMH batteries.
Note: NiMH batteries begin to discharge as soon as they are finished charging (even if you haven't put them in your trail camera yet). So don't let your batteries lay around a couple of weeks after they are charged before you put them into your trail camera. Despite this discharge for NiMH batteries, they will almost always outlast alkaline batteries in the field by a significant margin, especially if you buy high-quality Nickel Metal Hydride batteries with the largest capacity you can find (typically in the 2,300-2,500 mAh range or greater) like the Energizer Recharge Power Plus Batteries (2,300 mAh) or the Tenergy Premium Rechargeable AA Batteries (2,500 mAh)). 
Pros:
Huge cost savings over time
Better cold weather performance compared to alkaline batteries
Hold more energy/last longer than standard alkaline batteries
Cons:
Don't work with some trail cameras (In fact, some manufacturers will specifically state that you shouldn't use rechargeable batteries with their trail cameras.)
Fast rate of self discharge
Lithium Batteries 3000 mAh
Our favorite type of battery for trail cameras are lithium batteries. Yes, they cost more than alkaline batteries and they can't be reused to save you money over time like NiMH batteries, but they also possess advantages that these other types of batteries can't beat.
The first thing we like about lithium batteries is that they have a capacity that is much higher than other types of batteries. This means that they can last between 2-3 times as long as traditional alkaline batteries (sometimes more depending on the brands being compared and the amount of traffic that comes within range of the trail camera) and usually last around 50% longer than NiMH batteries.
The second thing we like, as discussed earlier, lithium batteries can consistently produce between 1.5 and 1.4 volts for the majority of their life cycle. The fact that it takes them the longest amount of time to drop to 1.2 volts (or below), combined with the fact that they have such a high capacity, means that they will not only have the longest life cycle of any battery type, but they will help your trail camera have the highest level of performance during this time as well.
Another thing that is fantastic about lithium batteries is their cold weather performance. Actually, they perform well in both the extreme cold and heat, even though in most cases we are looking for batteries that can withstand bitterly cold winter temperatures. An example of this would be the Energizer Advanced Lithium batteries which are rated to have an operating temperature of between -40°F to 140°F (-40°C to 60°C). If you search around you won't find alkaline or NiMH batteries that can handle cold temperatures anywhere close to what a high-quality lithium battery is capable of.
Note: We think that lithium batteries are a great option for all trail cameras, but one type of trail camera that we encourage you to use lithium batteries in above all others is cellular trail cameras. Most of the time you post them in areas that are further away and not convenient for you to check regularly. Plus, depending on your settings and if your cellular trail camera is in an area where it captures a lot of images it will need significantly more power to transmit them to you over the cellular network.
Pros:
Lasts the longest/longest life span
Maintains consistent voltage output
Best performer in cold weather
Cheaper initial investment when compared to rechargeable batteries
Cons:
More expensive than alkaline batteries
Only good for 1 use
Conclusion
Each person's situation is unique in terms of what type of trail camera they have and how they plan on using them. Depending on your situation you might feel that one type of battery is best for you while another person feels strongly that they want to use a different type of battery. Both of you can be correct.
The most important thing is to know the strengths and weaknesses of the type of battery you are buying so you don't have any surprises. Then for best results, regardless of which type of battery you buy (Alkaline, NiMH, or Lithium), make sure to get a high-quality battery with the largest capacity you can find.
Sale
Energizer Ultimate Lithium AA Batteries (3000 mAh)
24 Pack of Energizer Ultimate Lithium AA Batteries
Leak proof construction protects the devices you love (based on standard use)
Powers your most critical devices ideal for your smart home devices, outdoor surveillance systems, digital cameras, and handheld games
Holds power up to 20 years in storage for trustworthy backup energy, so you're always prepared. Warning: Risk of fire. Battery can explode or leak and cause injury if installed backwards, disassembled, charged, crushed, mixed with used or other battery types, or exposed to fire or high temperature
Performs in extreme temperatures, from -40F to 140° F, for year round, indoor and outdoor use
Sale
Tenergy Premium Rechargeable AA Batteries (2500 mAh)
High power energy - Tenergy's 12 pack Premium rechargeable batteries offers 2500mAh capacity. Generate long term energy savings by switching your household AA batteries to rechargeable batteries.
Professional performance - Premium NIMH AA rechargeable battery are trusted by photographers to deliver faster refresh rate.
Professional performance - Premium NIMH AA rechargeable battery are trusted by photographers to deliver faster refresh rate.
Professional performance - Premium NIMH AA rechargeable battery are trusted by photographers to deliver faster refresh rate.
Professional performance - Premium NIMH AA rechargeable battery are trusted by photographers to deliver faster refresh rate.
Sale
Energizer Max AA Alkaline Batteries
20 pack of Energizer MAX AA Alkaline Batteries, Batteries AA Size
Energizer's #1 longest-lasting MAX AA batteries provide dependable power - up to 50% longer lasting than EVEREADY GOLD in demanding devices
The power you depend on for your double A devices, from toys and flashlights to everyday items like remotes
These Energizer AA batteries hold power for up to 12 years in storage
Energizer MAX AA batteries are designed to protect your devices against damaging leaks for up to two years after fully used
Last update on 2023-09-24 at 20:46 / Affiliate links / Images from Amazon Product Advertising API