Entry-level trail cameras can get the job done for a lot of people, but sometimes people are putting trail cameras in situations where the maximum level of detail in the videos and pictures they capture is paramount. For those people, trail cameras that can record in 4K like the Browning Recon Force 4K EDGE are a terrific choice.
People who need a 4K trail camera usually want more than just basic features and specs. In fact, they often not only want higher-end features, but they also want customizable features. Since cameras like these are priced more than entry-level models buyers also want to buy these cameras from a trusted company like Browning.
Luckily, the Browning Recon Force 4K EDGE trail camera is currently regarded as being one of the top 4K trail cameras out there. Let's take a closer look and if it is a good fit for you.
Introducing the Browning Recon Force 4K EDGE Trail Camera
The Browning Recon Force 4K EDGE is a premium camera that comes at a fair price. Not only does it record terrific videos and super detailed pictures, but it does so with a host of features that aren't found on a lot of other trail cameras. This full-featured camera, with its many customizable settings, is a great choice for many of the most demanding situations.

Pros
4K UHD video recording @30fps
Long flash range with adjustable settings
A long motion sensing range with adjustable settings
Time Lapse Plus mode
Smart IR Video recording
Custom trigger speeds
Easy to install and use
Built-in metal tree bracket
Economical on battery use
Cons
The long list of features could feel overwhelming for some first-time trail camera users
Low glow flash
More expensive than entry-level cameras
Review of Key Features and Benefits of the Browning Recon Force 4K EDGE Trail Camera
Camera
One of the best features of the Recon Force 4K EDGE is its high-quality camera. It can take 32-megapixel photos and captures 4K videos with sound. The camera allows you to take up to 8 rapid-fire or multi-shot images.
When selecting the video quality that you want videos to be recorded at most people will choose to go with 4K UHD video @ 30fps. If you want to record videos at a higher frame rate you could opt to record videos in 1080p @ 60 frames per second.
Motion (PIR) Sensor
The motion sensor is one of the most important parts of any trail camera, as it detects any disturbances or movement. The motion sensor on the Browning Recon Force 4K EDGE has an adjustable detection range of 56-80-feet. The 80-feet detection range puts this trail camera among the best as most have a range of around 65-feet.
The PIR sensor's detection angle is 48-degrees. When you combine the 41° field of view on the 4K EDGE's camera with the PIR's 48° detection angle it is possible that you could get some false triggers from time to time due to this discrepancy.
There is also the Smart IR video feature, which allows the camera to continue recording a video during the daytime as long at motion is detected. Then once movement is no longer detected the camera will stop recording the video clip.
Trigger Speed
This trail camera has an adjustable trigger speed of 0.4 to 0.7 seconds. While the time is about average, the fact that you can adjust the speed is a nice bonus that helps to make the camera more versatile.
Flash
You can take night shots or record video at night courtesy of the low glow flash on this Browning camera. The low glow flash has a maximum range of 100-feet, which is greater than most cameras of its class. Its low glow LEDs won't visibly illuminate the area that is being recorded and they won't scare away game animals, but like all low glow LEDs, they are visible at night if you happen to look at the camera when the flash is in use.
The flash has three settings; economy, long-range, and blur reduction. The economy setting saves on your batteries and is ideal for brushy areas or, if the objects are proximal to the camera, around 50-feet. The long-range setting is suitable for open spaces or, if the game is far, up to 100 feet away. You can pick blur reduction if you want higher speed recording, mostly if the object being captured or recorded is moving.
Dimensions
This Browning Recon Force model has dimensions of 5 x 4 x 2.5 inches. The size is manageable and makes installation a straightforward process.
Time-Lapse Feature
Like most other trail cameras these days the Recon Force 4K EDGE comes with a time-lapse feature. When you set the time-lapse mode on your Browning Recon Force 4K EDGE it will capture images at the set frequency you select, from 5 seconds to 60 minutes.
Unlike most trail cameras, the motion sensors will continue to work when you turn on the Time Lapse Plus mode. This is very helpful when you want to monitor a large area that is beyond the range of the motion sensor but also don't want to risk missing out on capturing something that comes with the detection range of the camera.
You can use the Browning Buck Watch Timelapse Viewer Software to view your time-lapse recordings.
LCD Screen
This trail camera has a 2-inch color LCD screen, where you can view your recordings or easily adjust the camera's settings.
When combined with the self-illuminating buttons, using this Browning trail camera is a breeze, even in the dark.
Built-in Metal Tree Bracket
A nice convenience feature that a lot of other trail cameras don't have is the built-in metal tree bracket that along with its metal teeth helps to make sure that the camera stays in place after you have it strapped onto a tree. Once mounted it also allows you to easily adjust the camera's angle and tilt it downward if you decide to mount it from an elevated position.
Memory Card
You need secondary storage media to store your recordings captured by the Recon Force 4K EDGE. It can accommodate SDXC cards with a capacity of up to 512GB.Class 10 cards are recommended.
If you place the camera in an area where it will record a lot of videos you will need a memory card with a lot of storage space especially if you are capturing videos in 4K, which is why we suggest going with a 512GB card like the SanDisk 512GB Extreme PRO SDXC UHS-I Memory Card, which is designed for use with 4K cameras. If you want to save a few dollars the SanDisk 256GB Extreme PRO SDXC UHS-I Card is another great option and still has a very large 256GB storage capacity.
In case your memory card ever runs out of storage space, this trail camera has an SD card management feature. This feature will automatically rid your card of older images and video footage to give room for new pictures and videos. This is a game-changing technology available in a handful of trail cameras.
Batteries
To power the Recon Force 4K EDGE, you need 8 AA batteries. This hunting companion is relatively economical when it comes to battery consumption. Assuming that you are using high-quality batteries and depending on your settings and the amount of activity in the area it isn't unreasonable to expect to get four months out of a set of batteries before you need to think about replacing them. For the best performance and longest battery life, we suggest using high-quality lithium batteries like Energizer Ultimate Lithium batteries.
If you want to learn why we recommend lithium batteries you can check out our article on the best batteries for trail cameras.
Input for External Power Supply
As we discussed in our article about How Often Should You Check Your Trail Camera it is to your benefit if you aren't constantly running out to check your trail camera because you are worried that the batteries might be getting low. If you really want to extend the amount of time you can leave this camera unattended in the woods, you can use an external power supply unit as this Browning model has an input for a 12V external power supply.
The external power port on the Recon Force 4K EDGE accommodates Browning'sTrail Camera Power Pack as well as their Trail Camera Solar Panel.
Image Stamp
The image stamp feature makes it easy to sort and document your recordings. The image stamp contains the date, time, temperature, moon phase, and Camera ID.
Included Accessories
The camera comes with the following accessories to aid you in its use and installation.
6-foot long tree strap
User manual
Areas of Use
The Browning Recon Force 4K EDGE is a very versatile trail camera and is a solid choice for a wide range of applications where you need maximum clarity in your pictures and videos. In addition to scouting game animals, you can also use it to help protect your home and property from trespassers, burglars, and vandals.
You also need to keep in mind that since the camera uses low glow flash it will give away its location at night, as we discussed earlier. So you might want to be careful about using it in places where you need its location to remain hidden at night, as you would for any other low glow camera.
When we reached out to Browning to ask about the IP rating of the camera we were told that the Recon Force 4K EDGE didn't have an IP rating, but told us that it is water-resistant but can not be submerged. So we are thinking that you should consider it to be similar to an IP56 or IP66 rating. Since it is built to withstand the elements it is a reliable option for year-round use in all weather conditions.
Price
The Recon Force 4K EDGE's price seems to be high when you see it for the first time, especially when compared to more entry-level trail cameras. However, this is not your typical camera, as it sports features and resolutions that most do not have. It has a very reasonable price when you factor in its performance, especially the video quality.
Other Options
Campark T100 4K Trail Camera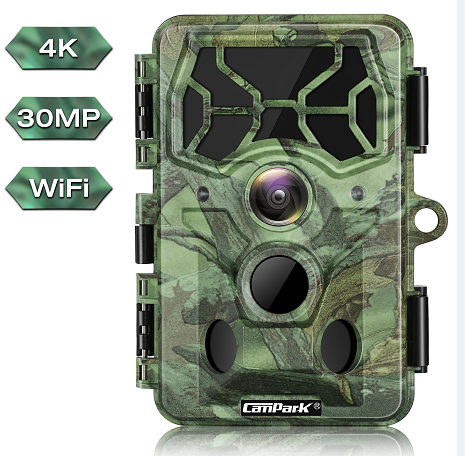 Priced a bit lower than the Browning Recon Force 4K EDGE the Campark T100 4K trail camera can record 4K videos @ 30fps. What makes this camera stand apart from the 4K crowd is its wireless capabilities with its WiFi and Bluetooth connectivity, which makes it easier when you want to post the camera in an elevated or other location that is more difficult to get access to. Thanks to its 3 PIR sensors the Campark T100 has a 120° detection angle, which is a wider detection angle than the Browning. Meanwhile, the Browning has a longer detection range as well as a longer flash range.
We did a full review of the Campark T100 if you are interested. Otherwise, you can check the current price of the Campark T100 4K trail camera here.
Stealth Cam DS4K Trail Camera
With its' unique dual image sensor design (one optimized for daytime and the other optimized for nighttime) the Stealth Cam DS4K trail camera can capture some terrific videos and pictures regardless of the time of day. Usually priced a bit less than the Browning this Stealth Cam doesn't have a color LCD screen and is lacking the camo exterior that most cameras have these days. Other than that these, two cameras are very comparable in terms of their features and specs. So for many people, it may come down to price and seeing if one camera is on sale when deciding between these Stealth Cam and Browning models.
Click here to see the current price for the Stealth Cam DS4K trail camera. We also did a full review on the DS4K if you want to read that.
Final Thoughts
If you're looking for a trail camera that can capture high-quality photos, and 4K videos and has impressive flash and detection ranges, but don't want to break the bank, you're in luck. The Browning Recon Force 4K EDGE hits on all those points and more and has a very reasonable price tag to boot.
You can check the current price of the Browning Recon Force 4K EDGE trail camera here.
Last update on 2023-12-06 at 03:01 / Affiliate links / Images from Amazon Product Advertising API