There has always been a desire from consumers in the trail camera market to find a camera with fantastic picture and video resolutions. With the advent of affordable high definition computer monitors and televisions, first in 1080p and more recently in 4K, the demand for trail cameras with better resolutions has only increased.
Some people want a 4K trail camera for the fun of it so they can view videos and images on the 4K screens that they already have. For other people who use trail cameras for property and surveillance purposes, it is vital to have a camera that can capture even the smallest of details.
Regardless of which type of user you are the Campark T100 4K Trail Camera, with WiFi and Bluetooth, is a camera that can meet your needs.
Introducing the Campark T100 4K Trail Camera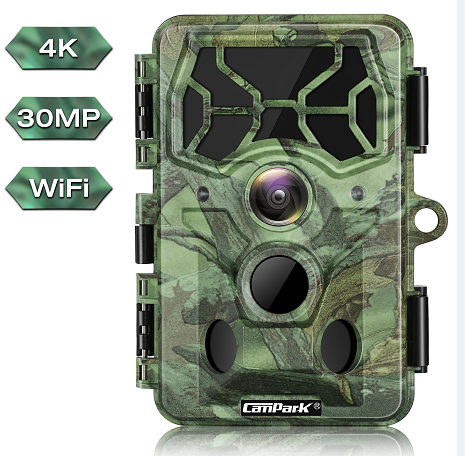 The Campark T100 is a high-end trail camera that is available at a reasonable price. In addition to its high resolution 4K camera, the T100 has several customizable features that along with its WiFi and Bluetooth capabilities make it a very versatile trail camera.
Pros
4K video recording @30fps
30-megapixel camera
120-degree viewing angle
Bluetooth and Wi-Fi connectivity
Supports memory cards up to a capacity of 128GB
Weatherproof IP66 rating
Cons
Low glow flash
Some other 4K trail cameras have longer detection or flash ranges
See Current Sale Price and Learn More Here
Review of Key Features and Benefits of the Campark T100 Trail Camera
Camera
One of the biggest attractions of the Campark T100 trail camera is among the select number of trail cameras with the ability to record high resolution 4K videos with audio. All video resolutions, including 4K videos, are recorded at 30 frames per second (fps), which is what you want to see in 4K recording (not all 4K trail cameras record @30fps). If you are unsure about the importance of frame rate for the videos your trail cameras record you can read an article we wrote about frame rates if you want to learn more.
When not recording video the camera can also capture pictures with up to an impressive 30MP resolution.
The T100 also has an adjustable shutter speed with settings of 1/15, 1/20, 1/30. In addition to the standard picture and video modes it also has a photo plus video mode where it takes a set number of pictures and then records a video. The camera also has a monitoring period timer feature where the camera will only be active during a certain specified time that you select when the timer is set to "On."
Built-In Wi-Fi and App Control
The Campark T100 is a wireless (not cellular) trail camera. It features both Bluetooth and Wi-Fi connectivity that allows you to connect to the camera from a distance using your smartphone. You connect to the camera using the Bluetooth feature on your smartphone to turn on the camera's Wi-Fi. Once the T100's Wi-Fi is on, you can then connect to the camera via the free smartphone app known as Hunting Camera 4K. Using the app you can adjust the camera's settings and view videos or photos on your phone.
Motion (PIR) Sensors
The Campark T100 Trail Camera features three motion sensors giving the camera a wide 120° detection angle and 65-foot detection range.
The PIR sensors on the T100 have some customizable settings that will allow you to successfully place the camera in a variety of settings. It has adjustable PIR (motion sensor) sensitivity with high, medium, and low settings. In addition, the side sensors can be turned off if the camera is placed in an area where there are things on the edge of the detection angle that are causing a lot of false triggers.
Trigger Speed
It has a 0.4 second trigger speed, and the photo gets captured or video begins recording. This is pretty fast but not the fastest as there are some cameras with 0.2 or 0.1 second trigger speeds (albeit for more money). You should feel confident that between the trigger speed and the wide detection angle it will be very difficult for anything to pass by the camera without being captured in pictures or on video.
Flash
The Campark T100 has 36pc 850nm infrared LEDs. This low glow flash has a range of 65 feet. The flash is also adjustable with Auto/Economy/Off settings to help you to customize the brightness for the environment the camera is set up in.
Dimensions
The T100 camera has dimensions of 5.3 x 4 x 3 inches.
Time-Lapse Feature
Like many other trail cameras out there this camera has a time-lapse feature, which can be very helpful when trying to monitor for slow-moving objects or the area that is beyond the range of the motion sensor. However, remember that the PIR sensor will be turned off when using the time-lapse feature and cannot be triggered. So the only photos the camera will take will be at the time intervals the user has selected.
LCD Screen
The Campark T100 comes with a 2.4-inch color TFT LCD screen, which helps make setting up the camera quick and easy. It also allows you to preview images in the field. While a 2.4 inch screen might seem small, which it is, it is significantly larger than the 2.0 inch screens found on many other cameras.
Memory Card
The T100 supports SD/SDHC/SDXC memory cards with a capacity of up to 128GB. For best performance, Campark recommends using U3 rated memory cards. We suggest using the SanDisk 128GB Extreme PRO SDXC memory card.
Recording 4K videos requires a memory card with more speed and saving 4K videos requires a lot more storage space. So you won't regret using the 128GM memory card mentioned above – especially if you plan on putting the camera in a busy location or leave it unattended for long periods of time.
Password Protection
The camera has a password protection feature that prevents strangers from accessing the camera's settings and allows you to keep your photos and videos private.
Batteries
This camera uses 8 AA batteries. For optimal battery life and top camera performance, we suggest using lithium batteries. We recommend Energizer Ultimate Lithium batteries.
If you are wondering why we recommend lithium batteries and would like to learn more you can read our article about the Best Batteries For Trail Cameras.
Input For External Power Supply
The Campark T100 supports a 6V external power supply with at least 1.5A. Using an external power source can be very helpful if you want to leave the camera unattended for extended periods of time – especially if the camera is posted in an area that has a lot of activity.
Campark actually sells a solar panel (shown above) that is specifically designed for trail cameras. You can check the current price of the Campark BC179 Solar Panel here.
Image Stamp
The image stamp on the Campark T100 includes the date, time, temperature, moon phase, and camera name. Campark allows you to give the camera a name, which, when you have more than one trail camera, can be a huge help as you try to identify the location when viewing photos and videos.
Included Accessories
Included with the Campark T100 are the following:
1 Mounting Belt
1 Threaded Tripod
3 Mounting Screws
1 USB Cable
User Manual
Areas of Use
Whether you love hunting, watching wildlife, or want to add extra security to your property, you can rely on the Campark T100. Plus, the wireless connectivity and other customizable features give you the flexibility to mount the camera in a wide variety of areas including places that may not be easily accessed on foot.
Furthermore, if you need to capture super-detailed videos and photos, or simply want to view them on your large 4K screen the T100, with its 4K camera, is a great way to go.
There are only two limitations on how you might use this camera.
One limitation has to do with its flash. If you need a trail camera that can keep its location hidden at night the low glow flash on this Campark may not be a good fit for you. That said, at this current time, finding a 4K trail camera with low glow flash is not easy.
The other limitation of this camera is that it won't transmit images or videos to you remotely like a cellular trail camera. However, this shouldn't really be counted against the T100. First of all, very few cellular trail cameras transmit videos, and most transmit a lower resolution version of the pictures the camera captures. Plus, even if you had a cellular trail camera that transmitted 4K videos or 30MP pictures to your cell phone the data charges you would have to pay each month would be enormous.
Price
Priced more than entry-level cameras the Campark T100 4K trail camera provides great value for your money. It is relatively cheap if you consider all of its excellent features. Furthermore, the 4K capabilities offered by the T100 is unmatched by the vast majority of today's trail cameras.
Other Options
Browning Recon Force 4K EDGE Trail Camera
The Browning Recon Force 4K EDGE trail camera is another great 4K trail camera and while it doesn't have the wireless connectivity of the Campark T100 it does have a few things that the T100 doesn't have. These things include a massive 100 foot flash range, a detection range of up to 80 feet, and the ability to take pictures with up to 32 megapixels. It also has a great Time Lapse Plus camera mode that when enabled, unlike most other trail cameras, still allows the PIR sensor to remain active thus allowing images to be captured whenever the sensor is triggered. We did a full review on the Browning Recon Force 4K Edge trail camera if you want to read that, otherwise, you can check its price here.
Stealth Cam DS4K Trail Camera
The Stealth Cam DS4K is usually a bit more expensive than the T100 and comes with a few things that the Campark doesn't have. One of the advantages of the DS4K is that it has a no glow flash with a massive 100-foot range as compared to the low glow flash with a 65-foot range found on the Campark. Another thing that makes this Stealth Cam stand out is that it has dual image sensors. With one sensor optimized for daytime and the other optimized for nighttime, you can capture incredible images and video regardless of the light conditions.
It should also be noted that the Campark T100 has a few features that aren't found on the DS4K. These features include a color LCD viewing screen, wireless connectivity, and a camo exterior.
We actually did a full review of the Stealth Cam DS4K if you are interested in learning more about it. Otherwise, you can check the current price of the DS4K here.
Final Thoughts
With a camera that can capture 4K videos and 30MP photos, the Campark T100 4K WiFi trail camera is a high-end option in the trail camera market. This full-featured camera comes with a lot of customizable options including wireless connectivity and an IP66 rating that make it a very versatile option.
You can check its current sale price here.