Versatility is an important word when it comes to trail cameras. Unless you have a feeder and plan on putting your trail camera right in front of it for the next several years you never know what situation or setting you will be putting your trail camera in. That is why you want a versatile trail camera.
So What Makes a Trail Camera Versatile?
Speaking in broad terms, what it takes to be able to confidently put a trail camera in a variety of situations is generally a lot of high-end customizable features. One of the features that can add a lot to what you can do with a trail camera is the ability to connect to it wirelessly.
The surprising Campark T75 is one of these trail cameras with wireless connectivity.
Introducing the Campark T75 WiFi Trail Camera
A bit higher priced than entry-level trail cameras, the affordable Campark T75 allows you to connect to it remotely thanks to its WiFi and Bluetooth capabilities. Then when you add in several customizable high-end features the T75 becomes a very adaptable trail camera.
Pros
20 MP pictures
1296p HD video resolution
WiFi and Bluetooth connectivity
Fast 0.3 second trigger speeds
Adjustable flash settings
Adjustable motion sensor
Easy to set up and use
IP66 rating
Competitive price
Cons
Low glow flash
User manual could be a bit better
The battery could drain faster than you want – especially if all the settings are maxed out and low-quality batteries are being used.
See Current Sale Price and Learn More Here
Review of Key Features and Benefits of the Campark T75 Camera
Camera
The T75 boasts a high-quality camera, with a photo resolution of 20 megapixels and a 1296p Super HD video resolution. With such quality, you are sure of clear image and video files with an equally high-quality sound for the footage.
There is also the photo+video mode that when the camera is triggered takes a photo before recording a video. It is a convenient feature that helps to give you a variety in what you capture.
Built-in WIFI and APP Control
One of the main attractions about the Campark T75 trail camera is its built-in WiFi and Bluetooth connectivity. Once connected to the T75 via WiFi it can be controlled through your smartphone using the free app, Hunting Camera Pro, which is available for both IOS and Android devices. When using the smartphone app, you will be able to view and download photos and videos from the camera in addition to being able to adjust the camera's settings.
To make a WiFi connection to the camera, you need to first connect to it via Bluetooth using the remote that is included with the camera (if you are within arms reach of the camera you could also press the 'Up' button on the camera). The remote control, or 'Up' button, will turn on the camera's WiFi. At that point you will need to connect to the camera again except this time you will use your smartphone to connect using the T75's WiFi signal. Once connected to the camera's WiFi signal, you can view pictures and videos as well as change the camera's settings through the smartphone app.
If the WiFi was left on continually it could drain the battery rather quickly, which is why Campark has you go through the process of using Bluetooth to turn the WiFi on and off as needed. By comparison, having the Bluetooth always be available is much less taxing on the battery than having the WiFi constantly turned on.
Will the Camera Automatically Send Pictures to your Smartphone?
No. If you need a trail camera that can automatically send pictures and videos to your smartphone or email account you need to look at cellular trail cameras. If you need a cellular trail camera we have identified several good cellular trail camera options for you to consider. We even broke it down to tell you which cellular trail camera is best for certain situations.
Remember that not only do cellular trail cameras typically cost more than wireless trail cameras, like the T75, but they also require you to purchase a data plan, which is an additional expense.
Does the T75 Connect to Your Home's WiFi Signal?
No. This is another common misunderstanding regarding WiFi trail cameras. These cameras create their own WiFi signal that other devices use to connect to it, but the camera doesn't connect to other wireless networks or connect to the internet.
Motion (PIR) Sensor
The motion sensor is a vital component of every trail camera as it detects disturbances in the surroundings and triggers the camera to start recording. The T75 has one motion sensor, with a 120-degree detection angle and a 65-foot detection range, translating to a larger area covered.
The PIR sensor has three adjustable sensitivity settings; high, medium, and low, which you can easily switch between when in the settings menu.
Trigger Speed
When talking about the motion sensor, you need to talk about the trigger speed. This Campark model has an impressive trigger speed of 0.3 seconds, which means no disturbance should escape your lens once detected.
Flash
The Campark T75's 38pc 850nm low glow infrared LEDs with their 65 foot flash range will provide sufficient illumination in dark conditions to capture the object in the detection range without spooking them.
The flash has three adjustable settings; superfine, economy, and auto. The superfine setting ensures you have a higher level of illumination in your photos and videos, though it will consume more power. The economy setting will conserve power, though the level of illumination will be less. The auto setting will balance between the economy and superfine mode.
Time-Lapse Feature
You can use the T75's time-lapse feature if you want to monitor the area that is beyond the range of the PIR sensor. You can also set the time-lapse mode if you have the camera set up in a way or in a place where you are receiving a lot of false triggers. When you turn this mode on, the motion sensor goes off. The camera will only take photos and videos at set intervals that you select. Using the time-lapse mode is also ideal for monitoring slow-moving animals such as reptiles that might not trigger the PIR sensor.
LCD Screen
The Campark T75 has a 2.4-inch color TFT LCD screen that makes setup quick and easy by giving you access to its settings and allowing you to view your video recordings and pictures.
If you have the mobile app, you do not have to consistently use the screen as you can do that remotely on your smartphone.
Exterior Case
The exterior case has a different design than what you will see on a lot of trail cameras. Rather than having a case where the entire front swings open (including the camera), only the lower portion of the T75's case opens up exposing the LCD screen and menu control buttons.
This is a helpful design because it lets the camera stay in position even when the case is open, which allows you to see exactly what the camera is viewing as you are setting it up in the field. This helps you to minimize the amount of time it takes to set up the camera because you won't need to shut the case, let the camera take a picture, check the picture, and potentially go through the process multiple times before you get the camera pointed in the direction you want.
Memory Card
As with all trail cameras, you will need secondary storage media (memory card) to store your photos and videos. With the T75 you can use SDHC memory cards with a capacity of up to 32GB. Campark recommends using class 10 cards. We suggest using SanDisk 32GB Ultra SDHC memory card. As always remember to format the card before using it.
Password Protection
The Campark T75 also comes with a password protection feature that allows you to prevent unauthorized people from accessing or using the camera. To set a password, you go to the password setting menu and input digits that you can easily remember. Every time you turn on the camera, you have to provide the password to gain access.
Batteries
You will need 8 AA batteries to power the Campark T75. You should get very good battery life, especially if you use high quality Energizer Ultimate Lithium batteries like we do.
Input for External Power Supply
The T75 has an input for an external power supply source that comes in handy when looking to extend the amount of time you can leave the camera unattended in the field. You use a 6V electrical unit with at least 1.5A. The port has a 3.55mm and 1.5mm outer and internal diameter, respectively.
If you are thinking about getting an external power supply for the T75 you might want to check out Campark's Solar Panel for trail cameras, which is pictured above.
Image Stamp
The Campark T75's image stamp shows you important details about when the pictures and videos were captured. This can be very helpful for hunters as you try to look for patterns of behavior in deer or other game animals. The details it shows include the date, time, temperature, moon phase, and camera name.
Included Accessories
The following are some of the accessories that the Campark T75 comes with:
Remote control
One USB cable
One mounting belt
A threaded tripod
Three mounting screws
User manual
Including both a tripod and mounting belt with the camera really helps to make the T75 easy to set up in the field regardless of where you want to place it.
Areas of Use
The Campark T75 is a versatile camera, and you can use it in several settings including posting it in an elevated position. In addition to hunting, you could also use it for property surveillance purposes and nature photography.
Remember that it has a low glow flash. So if you plan to use the camera in a place or in a way where you want or need to keep the camera's location hidden at night you might want to consider looking for a camera with a no glow flash. We have given you a good no glow option below.
Price
Even though it is priced a bit higher than entry-level trail cameras the Campark T75 is still a tremendous value. The T75 has several features and specs that you won't find on entry-level models. While it is a very good bargain it is priced similarly to some other similarly equipped WiFi trail cameras that we have reviewed.
Other Options
Campark T80 WiFi Trail Camera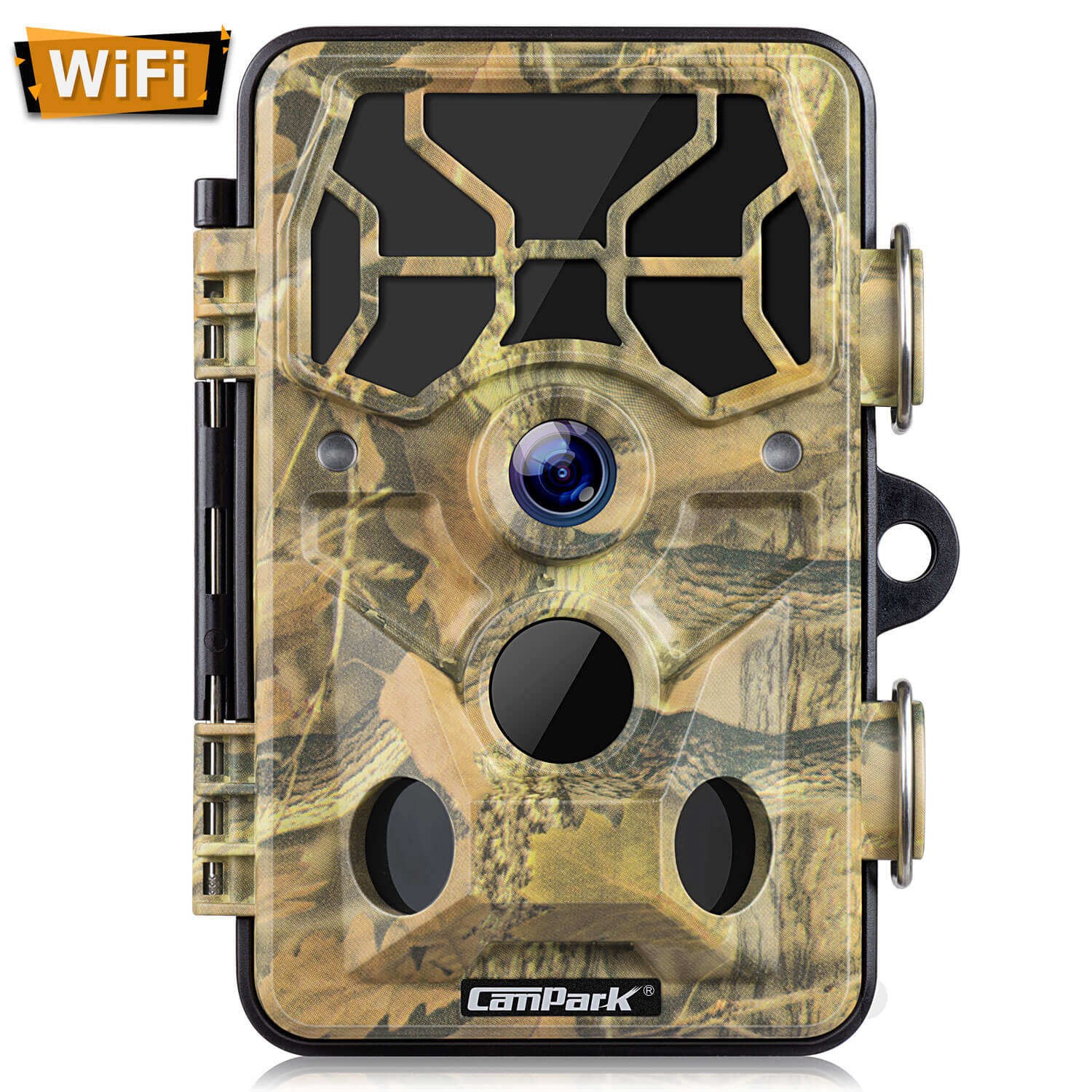 If you need the flexibility of a camera with 3 PIR sensors with the ability to turn off the side sensors if needed, for a few dollars more the Campark T80 is a great option to consider. Other than having 3 PIR sensors on the T80 compared to the 1 on the T75 the only real difference between the two cameras is a different camo pattern on the exteriors. Other than that, both cameras have the same specs including WiFi and Bluetooth connectivity.
Sometimes you can find the T80 on sale for the same price as the T75. You can check the current price of the T80 here. If you happen to find that the T80 is on sale for the same price as the T75 you might want to go ahead and buy the T80 because you will be getting more value for your dollar with its three PIR sensors.
Campark T86 No Glow Trail Camera with WiFi
If you need a WiFi trail camera with no glow flash the Campark T86 is a great way to go. Priced just a bit more than the T75 the T86 has an adjustable shutter speed. Other differences between the camera include the T86 having 3 PIR sensors and a 2.3 inch color LCD screen compared to the one sensor and 2.4 inch screen on the T75
If you like the T86 it is also worth noting that the Campark T85 is pretty much the twin of the T86. When I reached out to Campark to confirm this they said, "The main difference between the model T85 and T86 is their different appearances. They have the same firmware."
So if you like the T86 you should probably compare the prices on Campark T85 and T86. If one has a better price than the other or if you think the camo exterior of one of these cameras will fit better with your surroundings then go ahead and buy that camera. You are essentially getting the same camera either way.
Click these links to check the sale prices on the Campark T86 and T85 trail cameras.
Final Thoughts
If you are looking for a versatile WiFi trail camera with a lot of high-end features the competitively priced Campark T75 is a great option. Unless you need no glow flash or 3 PIR sensors on a wireless trail camera the price and features of the T75 are hard to beat.
You can check its current price here.