There are lots of scenarios where you want to keep the location of your trail camera hidden. Sometimes you might be using it on public land and don't want unethical people to steal it. Other times you might want to use it as a security camera and don't want to tip off potential trespassers or thieves as to the camera's location every time you want to check what was captured on the memory card.
So How Can You Keep Your Camera's Location Hidden?
One way would be to get a cellular trail camera so pictures could be sent to you automatically (you can read our Best Cellular Trail Camera Reviews and Buying Guide if you are interested), but they are expensive and have monthly fees so they can use cellular networks.
If you don't want to have the added expense of a cellular trail camera there are a few things your trail camera should have that will help keep it hidden and luckily the Campark T85 is one of those cameras that checks all those boxes.
Important features to look for include:
Camouflage exterior (most trail cameras already have this)
No Glow IR flash
Ability to connect wirelessly to other devices (to see and download pictures as well as to change the camera's settings)
Introducing the Campark T85 Trail Camera
The Campark T85 trail camera Campark T85 trail camera is great for hunters, nature enthusiasts, and anyone who wants an up-close and personal look at the great outdoors. The T85 trail camera has everything you need to experience animal behavior more authentically, including no-glow flash, high-resolution images, and wireless Bluetooth compatibility.
You can control the camera and view videos directly from an app on your smartphone, so you'll be able to see natural animal behavior when they are completely undisturbed. If you're looking for a high-quality trail camera that outperforms most other options currently on the market, then this may be the one for you.
Pros
24MP camera
1296p HD video
WiFi & Bluetooth connectivity
No Glow flash
Camera controlled directly from a free app on your phone
Fast trigger speed

2.3-inch color TFT LCD screen

Rated IP66 waterproof and durable enough to withstand extreme weather conditions
Cons
User manual could be a bit better
The batteries could drain faster than you want – especially if all the settings are maxed out and you aren't using high-quality batteries
See Current Sale Price and Learn More Here
Review of Key Features and Benefits of the Campark T85
Camera
The T85's camera features an 80° FOV and takes pictures at an impressive 24MP resolution, allowing you to take detailed and vivid photos of animals and wildlife. As far as video resolution goes, the camera records in 1296p HD video @ 30fps so you can clearly watch animal behavior from your phone.
In addition to the standard photo and video modes, the T85 also has a photo+video mode where it takes a set number of pictures that you select and then records video.
The camera also has an adjustable shutter speed, which will allow you to really fine-tune your results.
Built-in WIFI and APP Control
This camera has built-in wifi and also has Bluetooth connectivity. It can be controlled through your smartphone using a free app, Hunting Camera Pro, which is available for both IOS and Android. While in the app on your phone, you will be able to view and download photos and videos directly from the camera itself in addition to changing the camera's settings.
In order to connect to the camera wirelessly, you will first connect to the camera via Bluetooth using your smartphone. Once connected you can then turn on the camera's wifi. At that point you will need to connect to the camera again except this time you will connect to it via its wifi signal in order to view pictures and videos as well as to change the camera's settings.
When the wifi is on it can drain the battery quickly, which is why you need to go through the process of needing to use Bluetooth to turn on the wifi. Having Bluetooth always be available is much less of a drain on the battery than having the wifi constantly turned on.
Will the Camera Automatically Send Pictures to your Smartphone?
No. If you want a trail camera that can automatically send pictures and videos to your phone or email you will need to buy a cellular trail camera. If you need this feature we have identified several good cellular trail camera options for you to review.
Know that cellular trail cameras will not only cost more than a wireless trail camera, like the T85, but it will also require a data plan in order to have cellular service, which is an additional expense.
Does the Camera Connect to Your Home's WiFi Signal?
No. This is another common misconception about WiFi enabled trail cameras. The camera creates its own wifi connection that other devices can use to connect to it, but it doesn't connect to other wireless networks or connect to the internet.
Motion Sensors
The T85 camera has 3 motion sensors, which gives it a very wide 120° detection angle. You can also choose to turn off the side sensors. This can be helpful to people who are getting a lot of false triggers, especially if they are coming from the areas being monitored by the side sensors.
The detection range of the T85 is listed as 65 feet or 20 meters away. However, some users report getting closer to a 75 foot detection range out of it.
It is also good to know that in addition to being able to turn the side sensors on and off this trail camera also has adjustable PIR (motion sensor) sensitivity with high, medium, and low settings.
Trigger Speed
With a trigger speed of 0.3 seconds, this camera takes clear photos exceptionally fast when compared to other similarly priced trail cameras. The speed combined with the trigger distance of 65 feet and the wide detection angle helps you to always capture crisp images and videos, even as animals are moving quickly through the detection zone.
Flash
This camera features a no-glow flash with 36pcs infrared LEDs with a listed flash range of 65 feet, which will allow the camera's location to remain hidden at night when the flash is in use, which is great if you are using it on public hunting land. Having a no-glow flash also makes the Campark T85 an attractive option to use as a security camera when you aren't using it to monitor game animals.
It is also worth pointing out that the T85 has 3 adjustable LED flash settings. The super fine setting will give full brightness and therefore use more battery power. The economy setting will use less battery power and will only have the LEDs run at half power thus providing less illumination. Lastly, the auto setting will allow the camera to choose between the super fine and economy settings based upon the remaining power level of the batteries.
LCD Screen
On the T85 camera, you will find a 2.3-inch color TFT LCD screen inside the camera's protective shell casing. This helps make setting up the camera quick and easy. It is also great for reviewing images or videos on the camera itself when you don't want to use the compatible smartphone app or are unable to connect to wifi.
Durability
Besides being rugged enough to handle a fall without taking damage, this IP66 rated camera is also waterproof. You won't have to worry about the camera malfunctioning in rain or other harsh weather conditions while trying to use it.
Memory Card
This camera is not sold with a memory card, so you will have to purchase one separately. Campark recommends using a class 10 SDXC card that stores up to 128GB like the SanDisk 128GB Extreme SDXC memory card shown here.
Password Protection
The T85's password protection feature will allow you to prevent strangers from using the camera by setting a password. Once you have it set up, anytime you turn it on, you will have to enter the password.
Batteries
Batteries are not included with the trail camera so you will need to buy them separately. The T85 uses 8 AA batteries. Campark says that you can use 8 1.5V alkaline AA batteries, but if you want to get the longest battery life and top performance from the camera we suggest that you buy Energizer Ultimate Lithium batteries.
Input for External Power Supply
If you really want to maximize the amount of time you can leave the camera unattended you will be happy to know that the T85 has an input for an external solar power supply. However, it is recommended that you also insert alkaline batteries into the camera as a backup method of power should the external power source ever run out of power. The camera will use the external source first before relying on batteries.
If you don't want to worry about your external power source running out of power you might want to consider using a solar panel as your external power supply. Campark makes a solar panel for trail cameras, which is compatible with Campark trail cameras as well as with many other manufacturers' cameras. A picture of Campark's solar panel is shown above.
Click here to see the current price of Campark's BC179 Solar Panel.
Image Stamp
In addition to the name of the camera (yes you can name it, which is very helpful if you run several trail cameras), included in the image stamp you will find the camera's battery life, the temperature in both Celsius and Fahrenheit, the date, moon phase, and the time the photo or video was taken.
Included Accessories
The following accessories/items are included with the T85 from Campark
Mounting belt
Threaded tripod
Three screws (for the tripod)
USB cable
User manual
These items will help to make setting up the camera and mounting it in the field a quick and easy process.
Areas of Use
The Campark T85 trail camera's target market is hunters who want a full-featured wireless trail camera with no glow flash. The no glow flash combined with the wireless connectivity makes it very versatile.
You should feel confident using it on both private and public hunting lands as well as using it as a security camera. In addition, if you are looking for a camera that you can post at an elevated position and point downward at the area you are monitoring, but don't want to climb a ladder every time you check it, the T85, with its wireless functionality, is a great option.
Price
The T85 trail camera is a good option if you are looking for a price in the mid-range. It is a great value because the camera has several features, like Bluetooth and wifi compatibility, that are typically only available on much more expensive camera models.
Other Options
Campark T80 Trail Camera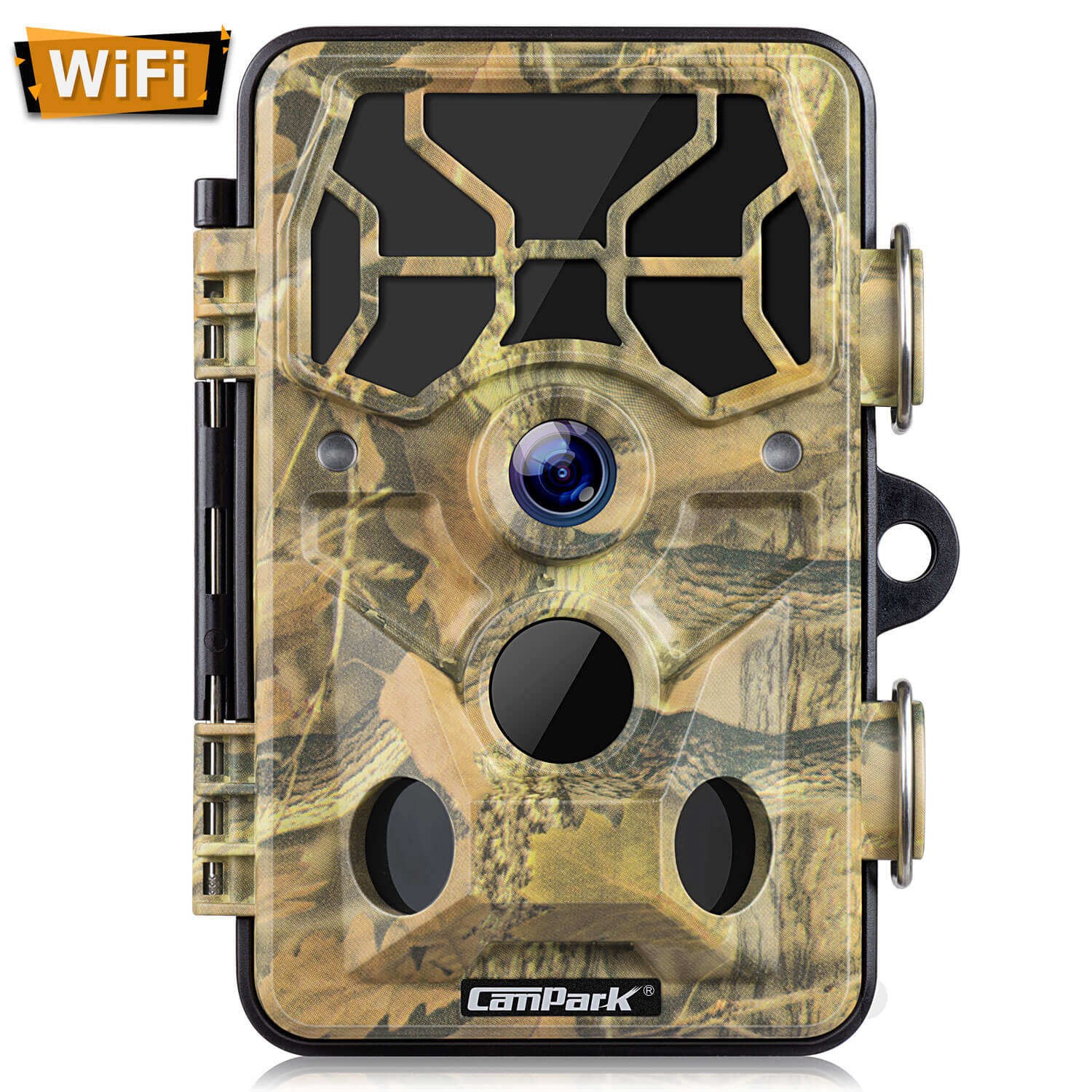 If you love the T85, but you don't need the no-glow flash, you can buy the Campark T80 and save some money. In addition to the low glow flash and a different color camo exterior, the other difference between these two cameras is the T80 has a separate remote that you use to turn the wifi on and off, whereas with the T85 you can do it all from your smartphone. Other than that, these two trail cameras are pretty much twins. If you are interested in learning more, you might be interested in checking out the full review we did on the Campark T80.  Otherwise, you can check the current price of the Campark T80 here.
APEMAN H55 Trail Camera
If you like all the features of the Campark T85, but really don't need or want the wireless connectivity the APEMAN H55 might be a great option for you to consider. Other than not having the ability to connect to it wirelessly and only having 1080p video resolution, the main difference between the APEMAN H55 and the Campark T85 is that the H55 only has one PIR, which limits its detection angle to 90-degrees instead of the 3 PIRs and 120-degree detection angle found on the T85. Beyond those things the APEMAN has almost identical features to the Campark, but for a lot less money.
You can view the current price of the APEMAN H55, along with any current sales or promotions here.
Final Thoughts
Priced lower than similarly equipped competitors, the Campark T85 trail camera Campark T85 trail camera, with its Bluetooth and wifi connectivity, is a top choice for people who don't want to disturb the area their trail camera is posted in. With a 24MP camera, no glow flash, and several customizable features, the T85 is ready for whatever comes its way.
You can check the current sale price here.
Last update on 2023-12-06 at 03:01 / Affiliate links / Images from Amazon Product Advertising API