Sometimes walking right up to your trail camera to swap out the memory card or change the camera's setting isn't convenient. For example, if you have your trail camera posted from an elevated position you probably don't want to carry a ladder to the camera's location every time you want to check the pictures and videos it has captured.
Plus, waking right up to your trail camera to check it will give away its location to anyone who might be watching, which is a bad thing if you are using your trail camera on public land or for security purposes.
So How Can You Check Your Trail Camera From a Distance?
One way would be to buy a cellular trail camera so you could have pictures and videos sent directly to you no matter where you are. That being said, trail cameras are more expensive than their non-cellular counterparts. Plus, cellular trail cameras have the added expense of requiring you to subscribe to a data plan in order to be able to send you pictures and videos. If you think that a cellular trail camera might be best for your situation you can read our Best Cellular Trail Camera Reviews and Buying Guide.
If you would rather not make the investment in a cellular trail camera getting you might want to look at getting a wireless trail camera. If you are able to walk within a reasonable distance of a wireless trail camera you will be able to connect to it via Bluetooth and WiFi without needing ladders and without giving away your camera's exact location. Luckily, the Campark T80 is one of these WiFi trail cameras.
Introducing the Campark T80 Trail Camera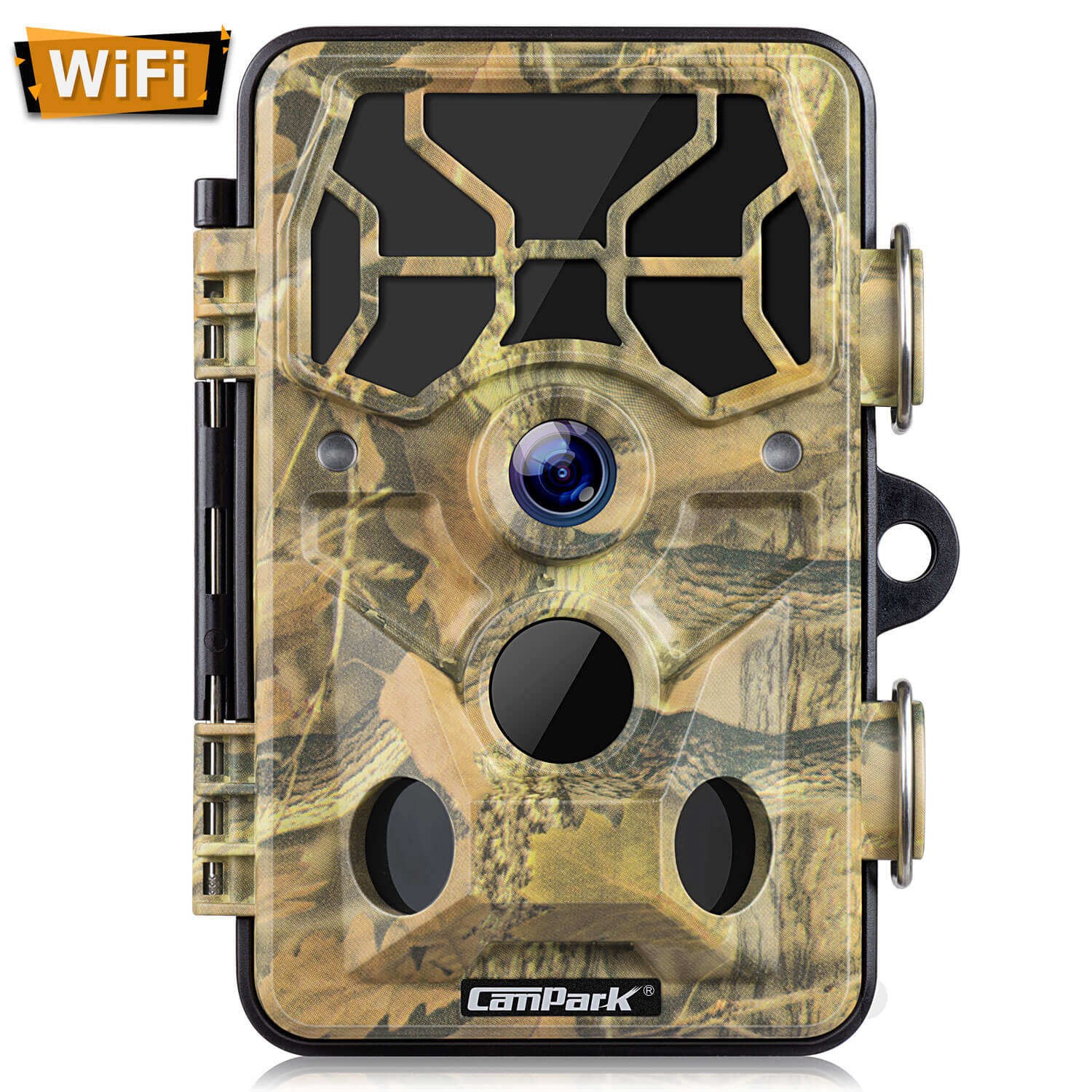 Priced a bit more than entry-level trail cameras, the Campark T80 has WiFi and Bluetooth capabilities to allow you to connect to your camera from a distance. In addition to its wireless functionality, it has a ton of higher-end and customizable features that make it a true value.
Pros
24 MP pictures
1296p HD video resolution
Adjustable motion sensors with a huge 120° detection angle
WiFi and Bluetooth connectivity
Free smartphone app
2.3-inch color TFT LCD screen
Rated IP66 waterproof and durable enough to withstand extreme weather conditions
Cons
Low glow flash
User manual could be a bit better
The battery could drain faster than you want – especially if all the settings are maxed out and low-quality batteries are being used.
See Current Sale Price and Learn More Here
Review of Features and Benefits of the Campark T80 WiFi Trail Camera
Camera
Whether you are using the Campark T80 trail camera to scout game animals or to monitor your property while you are away, you need clarity, which is one thing that the T80 guarantees you. The T80 has a 24-megapixel camera and can record super HD videos, which refers to 1296p video resolution. So this camera has you covered.
It also has an adjustable shutter speed with settings of 1/15, 1/20, and 1/30.
These impressive specs will help the T80 to capture even the smallest of details in the pictures and videos it takes.
In addition to the standard photo and video modes, the T80 also has a photo+video mode where it takes a set number of pictures and then records video.
Motion Sensors (PIR Sensors)
The motion sensor(s) is a critical component of any trail camera as they tell the camera to begin taking pictures or recording videos whenever they detect a disturbance. The T80 has a unique design, where there is a central PIR sensor along with two additional sensors, one on the left and one on the right of the main sensor.
Each of these 3 sensors has a detection range of 65 feet. While the triggering distance is about average, when you combine the 3 sensors it gives the camera a huge 120° detection angle, which will improve the camera's responsiveness and make it extremely difficult for anything to come through the area without being detected and captured by the camera.
If you end up posting the camera in a location where you have troubles with false triggers it is good to know that you can turn off the side motion sensors, if needed. In addition, this trail camera also has adjustable PIR sensitivity with high, medium, and low settings. These are yet more features that help make the Campark T80 stand out.
Trigger Speed
When talking about the motion sensor, you also need to talk about the trigger speed, which refers to the rate that the sensors activate the camera. The Campark T80 trail camera has an impressive trigger speed of 0.3 seconds.
This is a great value, especially when you consider that so many trail cameras these days have trigger speeds of around 0.5 seconds or slower – especially at this price point.
Flash
The flash range on the T80 is 65 feet. It has 36 pc 850 nm low glow infrared LEDs, which shouldn't spook game animals. However, the infrared LEDs on the front of the camera do visibly glow red when the flash is in use. This means that the T80 probably isn't ideal for use as a security camera since it might catch the eye of thieves or trespassers at night.
The flash has three settings you can pick from, they include super fine, auto, and economical. The super fine setting brings out the best brightness but consumes a lot of power. The economical setting, on the other hand, provides low illumination that is friendly to the batteries.
The auto setting will pick either of the two modes depending on the battery levels.
Time-Lapse
The T80 offers a time-lapse mode that you can turn on if you want to monitor the area beyond the sensors' detection range. With this function, the camera activates to capture images at predetermined intervals, which you select.
LCD Screen
The T80 has a 2.3-inch color TFT LCD screen. This 320 x 240-pixel screen allows you to view the captured images and videos directly on the camera and makes setting up the camera or adjusting its settings quick and easy when you don't want to use the free smartphone app.
Built-in WIFI and APP Control
This camera has built-in WiFi and Bluetooth connectivity. Once connected via WiFi it can be controlled through your smartphone using the free app, Hunting Camera Pro, which is available from Campark for both IOS and Android devices. The application is lightweight, meaning it won't consume much of your phone's resources and storage space. While using the smartphone app, you will be able to view and download photos and videos from the camera in addition to adjusting the camera's settings.
In order to make a WiFi connection to the camera, you will first connect to it via Bluetooth using the remote control that is included with the camera (if you are within arm's reach of the camera you could also press the 'Up' button on the camera). The remote control, or 'Up' button, will turn on the camera's WiFi. At that point you will need to connect to the camera again except this time you will use your smartphone to connect using the camera's WiFi signal. Once connected via WiFi, you will be able to view pictures and videos as well as change the camera's settings through the smartphone app.
If the WiFi was on continually it could drain the battery quickly, which is why Campark has you go through the process of using Bluetooth to turn the wifi on and off as needed. Having Bluetooth always available is much less of a drain on the battery than having the WiFi constantly turned on.
Will the Camera Automatically Send Pictures to your Smartphone?
No. If you need a trail camera to automatically send pictures and videos to your smartphone or email account you want to get a cellular trail camera. If you need this feature we have identified several good cellular trail camera options for you to review. We even broke it down to tell you which cellular trail camera is best for which situation.
Know that cellular trail cameras not only cost more than wireless trail cameras, like the T80, but they also require a data plan from a cellular service provider (like AT&T & Verizon), which is an additional expense.
Does the Camera Connect to Your Home's WiFi Signal?
No. This is another common misconception about WiFi trail cameras. The camera creates its own WiFi signal that other devices use to connect to it, but it doesn't connect to other wireless networks or connect to the internet.
Memory Card (SD Card)
As with all trail cameras, you need to buy an SD card in order for your camera to save the pictures and videos it captures. Campark recommends using a Class 10 SDHC memory card, which can come with a storage capacity of up to 32 GB. We suggest using a SanDisk 32GB Ultra SDHC memory card like the one shown here. You can also use a micro SD card with an adapter.
Batteries
To power the Campark T80 trail camera, you need 8 1.5V AA batteries, which should give most people a pretty good battery life. However, if you want to have maximum battery life and top performance (especially in cold temperatures), we recommend that you use Energizer Ultimate Lithium batteries.
If you want to learn more about why we suggest using lithium batteries in trail cameras you can check out our article on the Best Batteries For Trail Cameras.
Input for External Power Supply
If you really want to dramatically extend the amount of time you can leave the camera in the field without worrying about it running out of power, as well as keeping the location of the camera secret and undisturbed, you will be happy to know that the Campark T80 has an input for an external power supply. Campark recommends that the unit should be 6V and at least 1.5A.
Campark makes a Solar Panel that is compatible with the T80. So check it out if you are thinking of using an external power source. We have a picture of it shown above. You can see the current price for the Campark BC179 Solar Panel here.
Image Stamp
Like virtually every trail camera the T80 has an image stamp that displays on the pictures and videos it captures. The image stamp on the T80 includes the date, time, moon phase, and temperature. Not that I would ever want to turn it off, but within the camera's settings is an option for you to turn off the date stamp if you prefer.
Included Accessories
The T80 comes with various accessories that aid with the setup and installation. Below is a list of what comes included with the camera.
Remote control
USB cable
Mounting belt
Threaded tripod
Three screws and a user manual.
Password Protection
You can set up a password to prevent strangers from using the camera or previewing the videos on the LCD screen. When you access the password menu option, you will be able to set a 4-digit password. Then from that point forward, you will need to provide the password in order to use the camera or access the data saved on the memory card.
Price
The T80 is priced higher than entry-level trail cameras. So at first glance, it might seem to be costly. However, when you look at the long list of features and higher-end specifications you will realize that this isn't an entry-level trail camera. In fact, you will find that the T80 is actually value-priced when compared to other similarly equipped trail cameras.
Other Options
Campark T85 Trail Camera
If you like the T80, but you really wish it had no glow flash you can buy the Campark T85. In addition to having no glow flash and a different camo exterior, the other difference between these two cameras is the T85 not having (or needing) a separate remote control to turn the WiFi on or off, whereas the T80 has a separate remote that is used to turn the WiFi on and off (as we discussed earlier). Other than that, these trail cameras are pretty much twins. You can check the current price of the Campark T85 here.
Campark T75 Trail Camera
If you don't need the flexibility of being able to turn off the two side PIR sensors on the Campark T80 you can save some money by buying the Campark T75, which is usually priced less than the T80 (unless the T80 happens to be on sale). The only real difference between the T75 and the T80 is a different camo pattern on the exterior and the T75 having 1 PIR sensor instead of 3. Otherwise, these two cameras have the same specs including WiFi and Bluetooth connectivity.
You can check the current price of the T75 here. If you happen to find that the T80 is on sale and is the same price as the T75 go ahead and buy the T80 because you will be getting more value for your dollar with its three PIR sensors.
Final Thoughts
Priced lower than similar trail cameras, the WiFi and Bluetooth-equipped Campark T80 is a top choice for those who don't want to disturb the area their trail camera is posted in. With a 24MP camera, wide detection angle, and several customizable features, the T80 is ready for whatever comes its way.
You can check the current price here.