Do you live a long way from your hunting property and want a cellular trail camera to help you monitor the activity by your favorite food plot or feeder, but you don't want to pay a lot of money or end up with an expensive data plan or terrible smartphone app.
The Moultrie 6000 cellular trail camera might be just what you are looking for. With its affordable price, flexible data plan options, and popular app the Moultrie 6000 is a great option to consider.
Keep reading our review below to see if it meets your needs.
Introducing the Moultrie Mobile 6000 Cellular Trail Camera
The Moultrie 6000 is one of those examples that shows how far cellular trail camera technology has come over the years. It used to be that cellular trail cameras were expensive and complicated to use. Now with cameras like the 6000 everyone can consider buying a cellular trail cam. Not does it fit your budget, but its full-featured app allows you a tremendous amount of control over the camera's settings and helps you to sort through and find the images you are looking for.
The Moultrie 6000 cellular trail camera is one of the best pieces of equipment that you can have as a hunter when exploring the wild. It is evidence of advancements in trail camera technology, as it supports mobile phone connectivity for remote access.
It is a high-quality camera, which you may use in other areas, primarily home surveillance, a portrayal of how versatile the camera is. For the Moultrie 6000 to connect to your phone, it requires a mobile network, which allows you to view the recorded footage.
Pros and Cons Of the Moultrie Mobile 6000
Pros
16MP pictures
Great mobile app
Easy to use
Affordable price
2 year warranty
Energy efficient
Options for AT&T and Verizon are available
Cons
Only 720p video resolution
Slow trigger speed
Low glow flash
Videos do not transmit via the cellular network.
No LCD screen
Review of Features and Benefits of the Moultrie 6000 Cellular Trail Camera
Camera
The camera has a resolution of 16-megapixels and a video quality of 720p, which is a bit subpar when compared to several other cellular trail cameras and most of the new non-cellular trail cameras, which offer 1080p or higher video resolution.
However, these lower camera specs shouldn't necessarily make you avoid this trail camera for a few reasons. First, the images will only be transmitted to you at approximately 12 megapixels. Second, videos won't get transmitted to you at all (they just get stored on your memory card). Finally, remember just a few short years ago people were very excited if their cameras recorded video with 720p resolution, so 720p videos are far from unwatchable.
Motion Sensor
The motion sensor is another important part of the Moultrie 6000 trail camera, as it detects disturbances in the environment, subsequently triggering the camera to start recording.
The centrally located sensor has an excellent detection range of 80 feet to help you monitor those larger areas.
Trigger Speed
The Moultrie 6000 has a trigger speed of 0.9 seconds, which may be quite slow for trail cameras of its class, but decent enough to ensure no moment passes your lens. By comparison, the Moultrie 7000i no glow cellular trail camera has a much faster trigger speed of 0.3 seconds.
That said, the trigger speed on the 6000 will do a fantastic job for applications where the deer or other game animals you are monitoring tend to be more stationary and stay a while like salt licks, feeders, and food plots.
Flash
The flash feature plays a critical role in night photography by lighting up the surroundings. The 850-nanometer low glow infrared flash has a low-glow with a 70-feet illumination range.
While the low glow flash will not attract attention, the 24 infrared LEDs on the front of the camera glow red when the flash is in use. This is something you need to keep in mind if you are thinking of using the Moultrie 6000 for home security as it may attract the attention of burglars at night. If you are thinking about using a trail camera for security and surveillance of your property you might want to consider the Moultrie 7000i no glow cellular trail camera instead.
Moultrie Mobile Cellular Plan And Options
As with all cellular trail cameras, there are two expenses that you need to keep in mind. First, there is the price of the trail camera itself. Second, is the cost of the cellular data plan, which is every bit as important as the cost of the camera, because this will be a reoccurring expense for as long as you use the camera.
There are two models of the 6000; the XV6000 and the XA6000. The XV6000 uses the Verizon network, while the XA6000 uses the AT&T network. You can choose whichever model that will have the best signal in the area you will be using it. The 6000 is completely separate and independent from your current cellular provider. So you don't need to buy the model that uses the same service provider as your cell phone.
Regardless of which network you will be using, all the plans include:
Option to pay month to month or annually (for greater savings)
Free unlimited cloud storage
Ability to Download HD versions of images on demand
Advanced image recognition
No contracts
There are currently 5 plans to choose from:
Monitor Plan
Standard Plan
1,000 Images per month
Option to add 500 images for $4.99
Large Plan
1,500 images per month
Option to add 500 images for $4.99
Unlimited Plan (Best Value for most people)
Unlimited images each month
Pro Plan (Best if you have 3 or more cellular cameras)
Unlimited Images each month
Option to add additional cameras for $7.99 per camera per month
As you can see there are several good options to choose from, all of which come with perks such as free cloud storage, high-quality image download, and advanced image recognition.
Mobile App
To receive the images on your phone or tablet, you need to get the free Moultrie Mobile App. The app makes viewing images a straightforward process and comes with several features that allow you to:
Remotely check the camera's status and update settings
Automatically filter images based on what's in them
Customize notifications so you only see what matters
Manage your data plan and payment method
Keeps you up to date on new feature releases
Also allows for interactive mapping

This feature is especially helpful if you end up with multiple cameras in different locations.
Below is a video clip from Moultrie that will give you a flavor of what interactive mapping is like.
The free mobile app is available for both Android and IOS operating systems.
Internal Antenna
When you look at the Moultrie 6000, as well as its cousin, the 7000i, you will notice that there isn't an antenna extending from the camera case like you will find on most other cellular trail cams. That is because the antenna is internal on these models.
I am excited about these internal antennas for a few reasons. First, by not having the opening where the antenna is inserted into the exterior of the camera's case might help to eliminate a way for moisture to get into the camera. The second reason I like the internal antenna is that having an internal antenna helps the camera blend in better with its surroundings and stay hidden, which is very helpful if you plan to use it in a place where you will be worried about the camera being vandalized or stolen.
Cellular Plan Options
A standout thing with the Moultrie mobile 6000 trail camera is that it relies on a cellular plan to connect to your handset. There are two versions of the 6000 trail camera: the XA-6000 and the XV-6000. The former uses the Verizon network, while the latter uses AT&T.
There are many trail camera plans that you can bank on depending on your financial might and preferences. The Monitor plan is the most affordable package, where you get 100 images per month, at the cost of $4.99 per month.
For the Standard plan, you will part with $9.99 per month for 1000 images. The Unlimited package grants you an unlimited number of photos at $16.99 a month. Finally, there is the Pro plan, where you receive unlimited photos. This plan also allows for device pooling.
Smartphone App
The 6000 trail camera needs you to install a mobile application on your phone to receive your images. It also allows you to view and change settings as you prefer.
Through the Moultrie mobile app, you can see the signal strength, remaining battery and many more.
The app is lightweight and won't take much of your device's storage space. You can get the app on the respective download sites for both Android and IOS handsets.
Time-Lapse Feature
If you want or need to monitor the area beyond the range of the PIR sensor you will be happy to know that the Moultrie 6000 has a time-lapse feature that will allow your camera to automatically take images at predetermined time intervals that you select. This feature is also helpful if you want to monitor slow-moving animals such as reptiles that may not easily trigger the PIR sensor.
While the time-lapse feature is nice, you need to keep in mind that the camera will transmit all of these images, many of them empty, to you. So unless you have the Unlimited or Pro plans mentioned above, using the time-lapse feature could take up a big chunk of the images on your monthly data plan.
LCD Screen
The 6000 lacks an LCD screen. However, there is no need for an LCD screen as you can access your settings and view images on your mobile phone or personal computer. Plus, omitting probably helped Moultrie to keep the cost down.
Memory Card (SD Card)
You need a memory card for this trail camera to store your videos and additional images. A class 10 SDHC memory card is recommended. These cards support a maximum storage capacity of 32GB. The card we suggest using is the SanDisk 32GB Ultra SDHC memory card.
Batteries
Cellular trail cams have higher power demands than traditional trail cameras. So to power the 6000, Moultrie designed it to use 12 AA batteries. If you use high-quality batteries your camera should be able to operate in the field for a period of up to three months undisturbed.
If you want maximum battery life and top performance, especially in cold weather conditions, we suggest using Energizer Ultimate Lithium batteries.
Input for External Power Supply
If you really want to extend the amount of time that you can leave the 6000 unattended, which is something that most cellular trail camera owners want to do, you can connect it to an external power source. It has a 5.5 x 2.1 mm external port, where you connect a 12-volt battery.
Image Stamp
Like virtually all trail cameras these days, the Moultrie 6000 cellular trail camera has an image stamp that shows you the details about when the pictures or video footage was taken. The details on the image stamp include the time, date, camera name (you can name the camera), temperature, and moon phase.
Camo Exterior
If you like your trail cameras to blend into their surroundings and think that having a good camo pattern on the case of your trail camera is important, you will probably really appreciate the Moultrie Pine Bark Camo pattern on the exterior of the 6000. Not that the exterior of a trail camera is the most important feature to consider before purchasing, but if you are debating between a couple of trail cameras that you like equally well, things like the camo pattern can certainly be a deciding factor.
Areas of Use
If you want a cellular trail camera to monitor deer by a feeder or salt lick the Moultrie 6000 is a good option.
You might want to consider Moultrie Mobile 7000i cellular trail camera or some of the other options on our Best Cellular Trail Camera Reviews and Buying Guide if you want something for a more dynamic environment where you don't know where the activity will be coming from or if you want a camera that can't be detected at night.
Price
When you look at the price of the Moultrie 6000, you may think it is quite expensive for a trail camera. While it is most certainly more expensive than an entry-level trail camera, the 6000 is actually quite inexpensive when compared to most other cellular trail cameras.
Other Options
Moultrie Mobile 7000i Cellular Trail Camera
If you like the Moultrie 6000, but would like to take a step up in the areas of camera resolution, trigger speed and flash the Moultrie Mobile 7000i cellular trail camera is probably the perfect fit for you. With its 20MP pictures, 1080p video resolution, 0.3 second trigger speed, and no glow flash the 7000i is ready for whatever comes its way. You can check the current price of the 7000i here.
Campark T80 WiF Trail Camera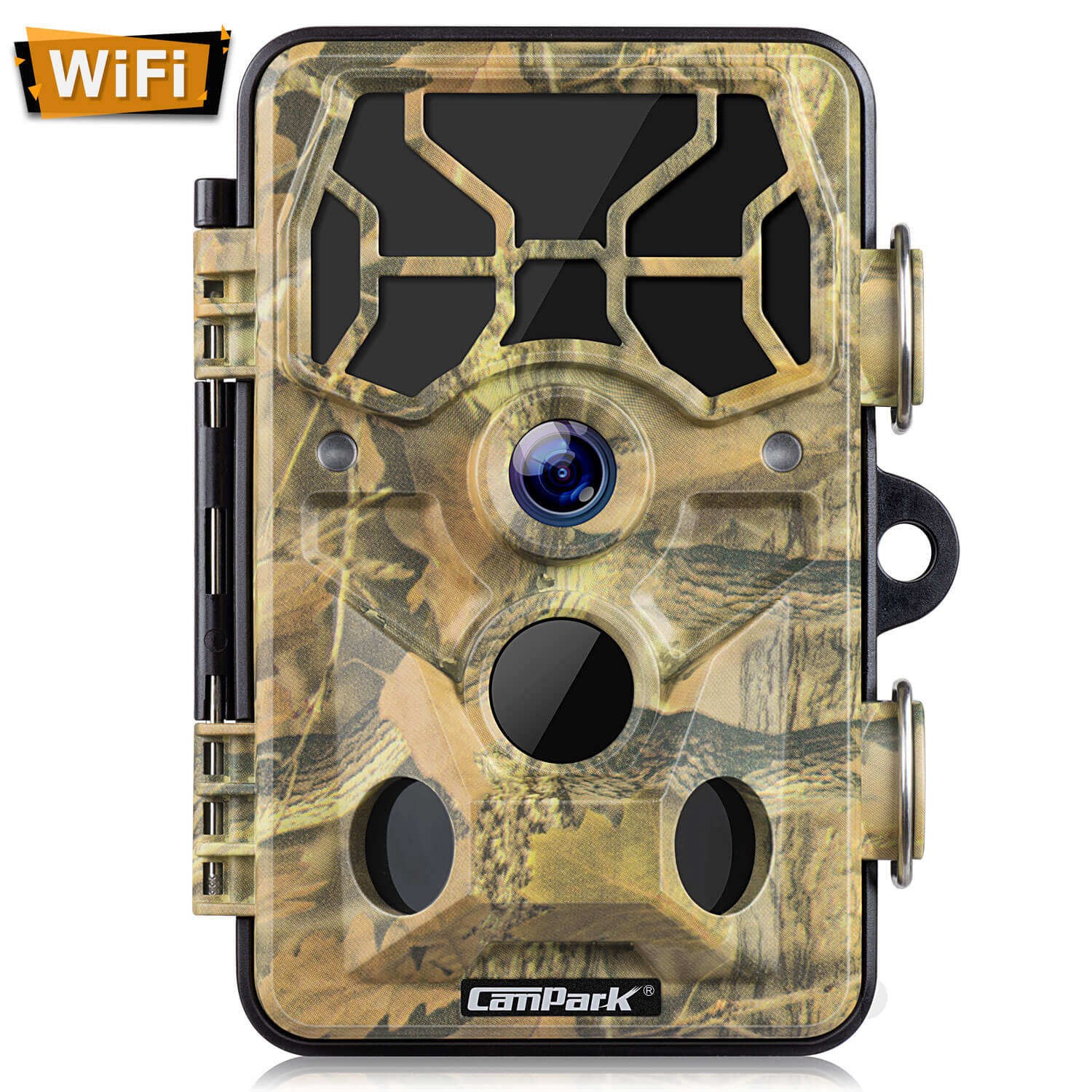 If you like the Moultrie 6000i, but really don't need a cellular trail camera and the associated cost of a data plan you might be interested in the lower-priced Campark T80 trail camera.
While it might not be a cellular trail camera it is wireless and has WiFi and Bluetooth connectivity. It also has a few specs that are better than the Moultrie 6000. These specs include a 20MP camera with 1296p video resolution, a 0.3 second trigger speed, and 3 PIR sensors with adjustable sensitivity and a 120° detection angle.
If you are interested in reading it, we previously did a review of the Campark T80 trail camera. Otherwise, you can check out the current price of the T80 here.
Final Thoughts
If you want an affordable way to remotely monitor that busy food plot or feeder the Moultrie Mobile 6000 is a great option. With its cellular connectivity, great price, full-featured smartphone app, and a variety of data plan options the Moultrie 6000 is a great choice to consider.
You can learn more about the Moultrie 6000 and check its' current price here.
The Moultrie 6000 cellular camera review covered by this article highlights its key features. It gives you a hint of how great it is as an outdoor hunting utility. It is ideal for hunters who want to up their hunting conquest by having the best monitoring device.
One of its standout features is its cellular connectivity, which allows for remote access and control of the camera. You can pick any of the several Moultrie cellular plans to get footage to your phone via the Moultrie smartphone app.
You can learn more about the Moultrie 6000 and check its' current price here.
Last update on 2023-12-06 at 03:01 / Affiliate links / Images from Amazon Product Advertising API