It's a pain to check your trail camera when it is posted in an elevated position or in another hard-to-reach location. And having the batteries die is the worst.
Do you hate lugging around a ladder or wading through thick brush to check your trail camera? Or are you constantly worried about the batteries in your trail camera dying? If you answered yes to any of these questions, the Campark T180 4K trail camera is just what you are looking for.
With the Campark T180 Trail Camera, you can easily check your camera from anywhere with its Bluetooth or WiFi connection range. Plus, the built-in solar panel means you'll never have to worry about dead batteries again.
Introducing the Campark T180 Trail Camera
Since its release, there has been a lot of buzz about the Campark T180 being a trail camera that can handle just about any situation. This camera is feature-packed, with many adjustable features, including 4K video, wireless connectivity, and a built-in solar panel, that make it stand out from the competition.
So let's take a closer look at the Campark T180 Trail Camera and see if it meets expectations.
Pros and Cons of the Campark T180
Pros
4K video recording
High-resolution pictures
Built-in solar panel
WiFi and Bluetooth connectivity
Super-fast trigger speed
Wide detection angle
Economical on battery use
IP66 weatherproof
Cons
Uses micro SD cards
Low glow flash
See Current Sale Price and Learn More Here
Review of Key Features and Benefits of the Campark T180 Trail Camera
Camera
The quality of the camera on the T180 is unquestionable. With its 1/3″ CMOS sensor it can capture pictures with resolutions of up to 36-megapixels and has the ability to shoot 4K videos, putting the camera right there with the leaders in the trail camera market.
You can set the camera to photo burst, where you can take up to ten photos at a time. In addition to the standard photo and video modes, you may also select the photo+video mode, which is my favorite, where the camera takes a set number of photos and then shoots a video helping to diversify what the camera captures.
The shutter speed is adjustable, allowing you to pick rates from 1/15, 1/20, and 1/30, which is the default setting.
Built-In Wi-Fi and App Control
Part of the appeal of the Campark T180 is Wi-Fi and Bluetooth connectivity. You can use the free Game Camera Pro 2 app to connect to the camera wirelessly. The app is available for both Android and iOS devices. For best performance, IOS 9.0 and Android 5.1 or above are recommended.
To access the camera wirelessly you will first use your smartphone to connect to the T180 via its Bluetooth signal, which will then allow you to turn on the camera's built-in WiFi. Once connected to the camera's WiFi you can use the app to view and download the pictures and videos the camera has captured. The app also allows you to change the camera's settings if needed.
The exact range you will be able to connect to the camera's Bluetooth and WiFi signals will vary by location with more open locations providing a longer range.
Motion (PIR) Sensors
The motion sensor, or in this case, sensors, is a vital component of any trail camera, as they detect any motions to initiate image or video capture. The Campark T180 has three motion sensors. It has a central sensor with a 60-degree detection angle and two side sensors, each with its own 30-degree detection angle. In total, the 3 PIR sensors give the T180 a 120-degree detection angle and a 65-foot detection range, translating to wide-area coverage.
Thanks to its adjustable PIR interval, which controls the amount of time that is elapsed after the camera has been triggered by the PIR sensor until the camera can be triggered to capture the next picture or video, you can set the sensing interval from 5 seconds to 59 minutes 59 seconds.
If you end up placing the camera in an area where you struggle with false triggers you may disable the side sensors, if needed. The camera also has adjustable sensitivity settings of high, medium, and low. I always prefer my cameras to be on the high setting, but if you are battling false triggers lowering the sensitivity setting can certainly help.  If you want to learn more about false triggers and how to prevent them you can read our Tips to Prevent Trail Cameras From Having False Triggers.
Trigger Speed
This trail camera has one of the fastest trigger speeds available coming in at a blazing 0.1-second. It is an impressive speed, especially since a large number of trail cameras still have trigger speeds of 0.3 to 0.5-seconds.
Recovery Time
Recovery time refers to the amount of time it takes for the camera to become ready to capture the next picture after the camera captures the previous one. Trail camera manufacturers don't always disclose the recovery times of their cameras, so it is great to see Campark openly share this information.
The T180's 0.5-second recovery time is swift. Combined with the lightning-fast trigger speed, no moment will pass by its lens unrecorded.
Flash
The Campark T180 has a 36pc 850nm low glow flash that provides 65-feet of illumination, which is a common flash range for trail cameras overall. Its flash is adjustable with four settings; low, medium, off, and auto, allowing you to customize the flash for your preferences and the conditions the camera is in.
I typically like to have the flash to be set as bright as possible to maximize the flash range of the camera. However, if you end up positioning the camera in an area where deer or other game animals pass close by the front of the camera they will look washed out if the flash is too bright. That is why having an adjustable flash is one of the things that helps to make the Campark T180 one of the most versatile trail cameras on the market.
Speaking of versatility I wish the T180 had a no glow flash. Having no glow flash would make it even more versatile. While low glow flash won't spook game animals, it will make the camera more visible. The 850nm LEDs aren't visible in the area they are illuminating, but they will make the front font of the camera glow red for a moment while the camera is taking a picture and for the entire time the camera is recording video. The red glow may not be an issue if you don't plan on using the camera for security purposes or on public land where it could be easily stolen or vandalized. However, if you are planning on using the camera on public land or for security purposes, the red glow could be something you want to consider.
Dimensions
The camera has a very compact size and measures 5.7 inches x 4.13 inches x 3.74 inches, which is very compact especially when you consider that these dimensions include the built-in solar panel. The small size of the T180 will make it more discreet and easier to conceal.
Time-Lapse Feature
Like many other trail cameras these days the T180 has a time-lapse feature. This allows the camera to take photos at selected intervals that you choose. This is an awesome feature that allows you to monitor areas that are beyond the range of the PIR sensor or to document long-lasting natural processes.
While not my first choice for dealing with false triggers, if you need to monitor an area that gives you a ton of false triggers no matter what you do using the time-lapse feature can be helpful. However, you should keep in mind that when you're using the time-lapse feature, the PIR sensors will be turned off and won't be able to be triggered. So the only photos the camera will take will be at the preselected time intervals that the user has selected.
Hours of Operation Timer
The T180 trail camera features an hours of operation timer, or "Monitoring Period" setting as Campark calls it, that allows you to specify the times when the camera is active.
If you don't need the camera to be active 24/7, the hours of operation timer is an ideal setting for you to use as it will help limit power consumption and saves storage space on the memory card.
LCD Screen
The T180 comes with a 2.0-inch color LCD screen and a speaker. The screen helps to make the camera setup quick and easy, as well as allows you to preview your captured images and videos in the field if you aren't using the smartphone app. The speaker, which is something most trail cameras with color LCD screens have, can be helpful if you are using the screen to view videos the camera has captured.
Memory Card
The Campark T180 supports microSD/SDHC memory cards up to 512GB in capacity. You will want to make sure that you are using a Class 10 card (U3 cards are recommended).
With the ability to capture images up to 36MP and record 4K video the file sizes saved on the memory card can be quite large. Then when you consider the fact that having a built-in solar panel allows you to leave the camera unattended for much longer periods of time it is good to see that the T180 can accommodate such a large memory card.
However, if the memory card in the camera ever does run out of storage space the T180 also has a Loop Recording feature that when enabled allows it to overwrite the oldest files on the card to make room for new pictures and videos.
Although Campark claims that the T180 can use 512GB memory cards, they can be quite expensive. A more affordable option would be a 256GB card. Even with 4K videos, 256GB provides an immense amount of storage space. If you're opting for a 256GB card, the SanDisk Extreme 256GB microSDXC memory card is a great choice. If you want to go with a larger card, the SanDisk Extreme 512GB microSDXC card is another great option. Remember to format whichever card you use before using it in the camera for the first time.
We don't really like using microSD cards in trail cameras. They're tiny so it's easy to drop and lose them in the tall grass or brush when you're taking cards in and out of the camera in the field. The problem is only exacerbated if you have bigger hands or it is cold outside. Having said that, I wouldn't let the fact that the T180 uses microSD cards dissuade you from buying this camera if everything else about it meets your needs.
Password Protection
You can encrypt this trail camera by setting a password. To do this, go to the settings and select the password option. Enter digits that you can remember, and this will secure the camera from being used by unauthorized parties.
Solar Panel
The T180's solar panel, integrated right into the camera's design, is one of its biggest selling points. It charges a built-in 4400mAh lithium battery, ensuring the camera always has power and runs smoothly at all times.
Batteries
In addition to the solar panel and its' rechargeable battery, the T180 can also be powered by 4 AA batteries. By default, the camera is powered by the solar panel and its rechargeable battery, but should the power level on that rechargeable battery get too low the camera will automatically switch to the 4 AA batteries as its power source.
You might ask why the camera would ever need the AA batteries with the solar panel there to charge the built-in battery. Well depending on the weather, time of year, location of the camera, amount of activity in the area, and the camera's settings, the solar panel may not get enough sunlight to meet the camera's needs. That is why you should always have some 4 AA batteries in the camera so you don't miss out on capturing any of the action. You can use alkaline batteries, but for the longest battery life best performance, especially in cold weather, you should strongly consider using high-quality lithium batteries like Energizer AA Ultimate Lithium batteries.
Sale
Energizer AA Ultimate Lithium batteries
24 Pack of Energizer Ultimate Lithium AA Batteries
Leak proof construction protects the devices you love (based on standard use)
Powers your most critical devices ideal for your smart home devices, outdoor surveillance systems, digital cameras, and handheld games
Holds power up to 20 years in storage for trustworthy backup energy, so you're always prepared. Warning: Risk of fire. Battery can explode or leak and cause injury if installed backwards, disassembled, charged, crushed, mixed with used or other battery types, or exposed to fire or high temperature
Performs in extreme temperatures, from -40F to 140° F, for year round, indoor and outdoor use
Image Stamp
Like virtually all trail cameras, the T180 has an image stamp. On the T180, the image stamp includes the date, time, temperature, moon phase, and the camera name (you can name the camera, which can be very helpful if you have several cameras and want to be able to easily identify them). You have the option to turn the image stamp on or off. However, unless you are using the camera for purely nature photography, I can't imagine a situation where you would ever want to turn it off.
Included Accessories
The following are extras that you will find in the T180's packaging.
A mounting belt
A mounting bracket
3-mounting screws
User manual
USB cable
Areas of Use
The compact Campark T180 is an excellent trail camera for a variety of uses including monitoring game animals on your property, and keeping an eye on your farm, business, or home. Its Bluetooth and WiFi capabilities allow you to put it in hard-to-reach positions and still be able to easily access the camera whenever you need to. Plus, the built-in solar panel means you can leave it undisturbed for long periods of time without worrying about it running out of power.
The only two ways in which this trail camera might not be the best fit for you is if you need a no-glow flash to keep the camera's location hidden at night or if you need to be notified every time a picture is taken, in which case you may want to look at Find Your Perfect Trail Camera Tool.
Pricing
At first glance, you will notice that the price of the T180 is certainly more than those of entry-level trail cameras, but the Campark T180 is far from an entry-level trail camera. When you consider that this trail camera not only is capable of shooting 4K video, but also has 3 PIR sensors, Bluetooth, and WiFi capabilities to go along with its solar panel that is seamlessly incorporated into its design, you will see that this trail camera is an exceptional value.
If you go to our Find Your Perfect Trail Camera Tool, you will see that the T180 is in a class by itself, with only one other camera, the Campark T200, sharing its unique combination of features. However, the solar panel on the T200 isn't integrated as seamlessly into the camera's design making it have a larger profile than the T180.
Other Options
Campark T100 4K Trail Camera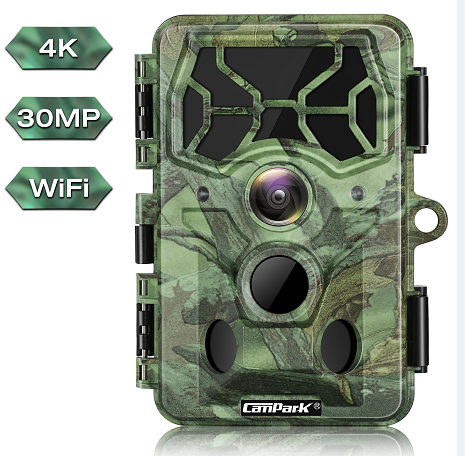 If you like the T180, but don't want or need a solar panel you can save some money and still get strong performance with the Campark T100 4K trail camera. In addition to not having a solar panel, you will be giving up a little trigger speed if you opt for the T100 with its 0.4-second trigger speed over the T180 with its blazing fast 0.1-second trigger speed. That said,  most people will be just fine because when you combine the T100's trigger speed with its ultra-wide 120° detection angle, it will be very difficult for objects to avoid being captured once they enter the camera's detection area.
If you want to learn even more about the camera you can read the review we wrote about the Campark T100 here.
Campark frequently often has sales on their trail cameras. This is on top of frequently offering discounts for first-time customers. You can see the current price of the Campark T100 4K trail camera here.
Campark T150 4K Trail Camera
The Campark T180 shares many of its features and specs with the here including its built-in solar panel, Bluetooth, and WiFi connectivity.  The big difference between these cameras is that the T150 has 1 motion sensor instead of the 3 PIR sensors found on the T180.
If you don't need the extra control over your detection area that a camera with 3 PIRs offers you should feel good about saving some money and getting the Campark T150, because it is a tremendous option.
You can check the current price of the Campark T150 here.
Final Thoughts
The Campark T180 is in a class of its own with no other camera currently matching its unique combination of features. Some of the great features include 4K video recording, Bluetooth, WiFi, and 3 PIR sensors. All of these are powered by a built-in solar panel that is seamlessly integrated into the camera's design. Plus, with many adjustable settings, you can customize the camera for any environment.
The good news is that Campark regularly offers sales and discounts on their products, especially for first-time buyers. You can check the current sale price of the Campark T180 4K trail camera here.
Last update on 2023-09-24 at 21:44 / Affiliate links / Images from Amazon Product Advertising API