If you have ever used a trail camera before you know how frustrating it can be to check your camera only to find a bunch of empty images – even though you know that something or someone (if you are using the camera for security purposes) came through the area.
If you are looking for a traditional trail camera that will help minimize or reduce this frustration the Campark T45 could be just what you are looking for. Plus, when you look at its amazing set of features and specs you will be hard-pressed to find a similarly equipped camera that is more affordable.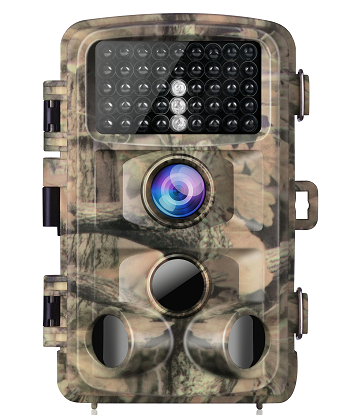 Why Do So Many Trail Cameras Take Empty Pictures?
If you place a trail camera in a large open space you want the camera to capture images and video covering as much of that space as possible. Too often something comes through the area and the trail camera captures images with nothing in them or perhaps doesn't capture any images at all.
One example of this would be if you placed the camera facing a field or food plot. Deer or other animals could come from any number of directions and even if they come very close to where your camera is positioned it might fail to capture images or video of the deer is too far to the left or right. This same scenario can play out in the woods if you have your trail camera positioned where two deer trails converge.
This can happen for 5 reasons:  
The trail camera doesn't have a wide-angle lens.
The motion sensor doesn't detect at a wide enough angle.
The trail camera doesn't detect motion far enough away.
The object is moving quickly (perhaps on the edge of the detection range or edge of where the camera lens can capture it) and the camera doesn't take a picture fast enough.
There was a false trigger. This can happen to all trail cameras and has to do with how you set them up. You can read more about how to avoid false triggers here.
How Can This Be Fixed?
Campark has addressed this issue in 3 important ways with the T45A Trail Camera.
120° Wide Angle Camera Lens
120° Wide Motion Detection Range
Gave the camera a 0.3 second Trigger Speed, which means that 0.3 seconds after motion is detected the camera is told the capture the image.
Introducing the Campark T45A Trail Camera
The Campark T45 was originally released with a lower resolution camera. However, since its original release, the camera has been upgraded and the trail camera has been rebranded as the Campark T45A. It comes in the two color options shown below.
If you don't need a trail camera that offers WiFi or cellular connectivity the Campark T45A is a terrific choice. This traditional trail camera offers great performance at an exceptional price.
Campark was established in 2009 and is a newer entrant in the trail camera space compared to some other companies. However, don't let the age of this company fool you. Campark is aggressively trying to deliver feature-laden trail cameras at affordable prices.
With T45A model Campark addresses the need many people have for a trail camera that has a wider angle for the detection and capture of images and video.
Pros
20MP Camera with 120° wide-angle camera lens
4K Lite video recording audio
3 Passive Infrared (PIR) Motion Sensors that give the camera a 120° wide detection angle
Fast 0.3 second trigger speed
Great price
Cons
A little larger than some other trail cameras
Detection range only rated for 65 feet
Uses microSD card
Review of Key Features and Benefits of the Campark T45A
Camera
The upgraded camera on the T45A can capture images up to 20MP and offers 4K Lite video recording with audio, which is a nice step up from the 14MP images and 1080p video that were offered on the original T45. While there are some higher megapixel trail cameras out there you will be hard-pressed to find them at this price point.
It is important to highlight that the 4K video recording on the T45A is 4K Lite. This means that while each frame in the video is recorded in 4K and has amazing detail, faster-moving objects may appear choppy or shudder due to the lower frame rate used when recording 4K Lite. If you want to record video in an area where there is a lot of faster-moving action you may want to opt to set the camera to record video in 1080p, which uses a higher frame rate. Either way, you should be able to find a video recording option on the T45A that will suit your needs just fine. If you want to learn more about frame rates you can read our article that discusses frame rates for trail cameras.
Then when you add in the fact that it has a wide-angle camera lens with a 120° field of view most people will be pretty pleased.
Motion Sensors
The 3 Passive Infrared (PIR) motion sensors give the camera a massive 120° wide detection angle. With some trail cameras having a detection angle of around 45° to 60°, the Campark T45A can do the job of 2 or more of these cameras.
The detection range is a respectable 65 feet. However, the greedy part of me wishes that the range was longer because I know that I will ask this trail camera to cover some wide-open spaces. That being said, it would be hard to significantly increase the detection range without increasing the price as well.
Trigger Speed
Anytime a trail camera has a trigger speed of less than ½ a second it is pretty fast. The Campark T45A has a very quick 0.3 second trigger speed.
The combination of the wide-angle lens, a wide detection angle, and the fast trigger speed will make it hard for anything that comes near this camera to avoid detection.
Flash
The Campark T45A has 42 low glow infrared LEDs, which do a good job.
Some people might wish this camera had no glow LEDs – especially if they are using the trail camera for security purposes or if they are hunting on public land and want to keep the camera better concealed. But for most people, the low glow LEDs will be just fine.
LCD Screen
The T45A has a 2.4" color LCD screen that aids in the setup of the camera and allows you to preview pictures in the field.
That being said, if you don't want to spook the game animals you probably don't want to spend a lot of time viewing the pictures in the field. Instead, it is better to have an extra memory card and quickly switch the memory card that is in the camera out with a different card. That way you will reduce your chances of spooking the animals and you will always have a memory card in the trail camera to capture images and video.
Memory Card
Most trail cameras support SD cards up to 32GB. The Campark T45A supports microSD cards up to 32GB. We suggest using a SanDisk Ultra 32GB MicroSDHC card. The microSD card performs well and 32GB is the maximum size storage card most will allow. So in that way, the fact that the T45A uses a microSD card isn't a big deal.
However, microSD cards are smaller than regular SD cards. Some people might have a hard time getting them out of the camera while they are in the field. This struggle can be more pronounced when it is cold outside and you are trying to remove the card with cold fingers.
If you are unsure about the differences between SD cards and microSD cards you can read our article that talks about the different types of memory cards that are available.
Input for External Power Supply
If you really want to extend the amount of time you can leave the T45A in the field it is good to know that it has an input to accommodate an external power source. If you want to use an external power supply with this camera you will need a 6V power supply unit with at least 1.5A.
If you are considering using an external power supply with the T45A you might want to take a look at Campark's BC179 Solar Panel for trail cameras, which we posted a picture of above. You can see its price here.
Price
One of the highlights of the Campark T45A is its' price. It is a very affordable camera and is priced very competitively compared to other trail cameras.
Then when you consider that this camera can cover almost as much ground as 3 traditional trail cameras its value only increases.
Other Options
If you are willing to jump up in price the Moultrie P-120i offers the same 120° detection angle as the Campark T45A. However, the P-120i justifies its' higher price by offering NO GLOW flash and a 20MP camera.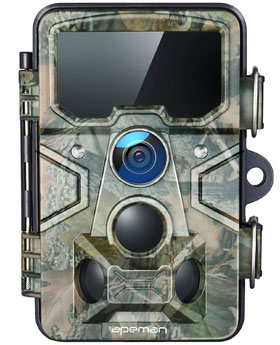 Usually priced similarly to the Campark T45A the APEMAN H60 is another value-priced trail camera with 3 motion sensors that offer a wide 120° detection angle. The APEMAN H60  also offers a 20MP camera just like the Campark T45A. The 116° field of view on the H60's wide-angle lens is slightly narrower than the 120° (FOV) on the Campark T45A. Either way, both cameras can capture images over a wide area, which can be helpful if you aren't exactly sure where the activity will be at.
If you want to see more details on the APEMAN H60 you might want to read the full review we previously did on the H60. Otherwise, you check its current price here.
Final Thoughts
The Campark T45A trail camera does a great job of eliminating the frustration of missing out on capturing images in wide or open spaces. With its' 120° wide detection angle and 120° field of view with its' wide-angle lens, the T45A can cover close to 3 times the ground as many other trail cameras. This makes the decision of deciding exactly where you want to point your trail camera as you set it up much less stressful.
The Campark T45A can be bought directly from the Campark website. They often have sales and discounts, as well as free shipping within the US. You can find out more about the Campark T45A and see its current price by clicking here.