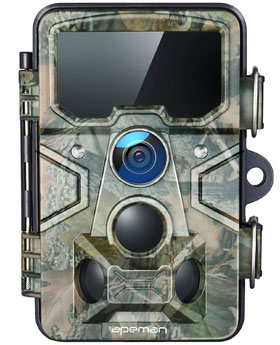 Sometimes when you are using a trail camera you don't know exactly where you should place the camera because you don't know the area and aren't exactly sure where the activity will be taking place. In situations like that, it is important to have a trail camera that can monitor and capture the action from a very wide area.
Thankfully, the APEMAN H60 is one of the trail cameras that can help you address this sort of problem by not requiring you to know exactly where you need to place the camera when you are unfamiliar with an area.
Introducing the APEMAN H60 Trail Camera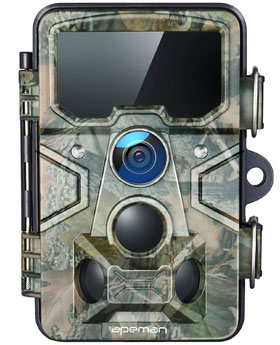 With a wide detection angle and a wide-angle lens to go along with a long list of customizable features, the APEMAN H60 trail camera can really adapt to its environment and help you minimize the chance that anything could come near the camera without being captured in photos or videos.
In addition to using it for monitoring wildlife, the H60 is also a popular choice for many people who are looking to use it for security and surveillance purposes.
Pros
3 PIR sensors
Adjustable PIR (motion sensor) sensitivity
Wide detection angle
Easy to use and set up
Affordable price
Economical on battery use
16GB microSDHC memory card is included
IP66 weatherproof
Cons
Uses microSD/SDHC memory cards
Low glow flash
Review of Key Features and Benefits of the APEMAN H60 Trail Camera
Camera
When you put the Apeman H60 in the field, you can feel good knowing that it will capture clear photos and video footage. The camera has a photo resolution of 20-megapixels and records videos in 1080p resolution. It comes with a 116-degree wide-angle lens and also captures audio.
The camera has the photo+video mode, where it records some photos before taking a video. This mode helps in diversifying your recordings. Be aware that in certain situations it might feel like there is a sight effect with the camera and photos of fast-moving objects might not appear as crisp as you would like, but this is far from the only camera that you could say these things about.
Motion Sensors
If you are new to trail cameras each camera is equipped with one or more motion sensors, whose job it is to detect activity in front of the camera and when detected tell the camera to start rolling. The H60 has 3 motion sensors, 1 on each side and another in the center. The side sensors have a detection angle of 30-degrees each, while the middle has an angle of 60-degrees. It gives the camera a total detection angle of 120-degrees. It has a detection range of 65-feet.
If you place the camera in an area where you are getting a lot of false triggers you will be happy to know that the H60 has adjustable PIR (motion sensor) sensitivity with high, medium, low, and auto settings, which can usually help with this problem. However, if you find that you are getting false triggers because of things that are on the left or right edge of your detection zone the camera also allows you to turn off the side sensors if needed.
Trigger Speed
The H60 trail camera has a trigger speed of 0.4-seconds. It is about an average speed, considering so many trail cameras have a range of between 0.4 to 0.5 seconds these days. However, when coupled with the wide detection angle and wide-angle camera lens, it boosts the camera's efficiency.
Flash
The H60 easily handles low light conditions courtesy of its 40pc 850nm low glow flash. It has an illumination range of around 65-feet, which is a pretty common range that you will see on a lot of cameras today. While the low glow flash shouldn't spook game animals and won't visibly illuminate the area being photographed or recorded, the LEDs on the front of the camera will give off a slight glow when the flash is in use, which is true for all low glow trail cameras.
Dimensions
This Apeman trail camera has dimensions of 5.3inches x 3.97inches x 3inches (135mm x101mm 76mm), which makes it about average sized for today's trail cameras.
Time-Lapse Feature
Like many of today's modern trail cameras, the H60 comes with a time-lapse feature, which can come in handy in a variety of ways. It allows you to capture slow-moving natural processes that would otherwise not trigger the PIR sensors. It also gives you the option to monitor the area that is beyond the detection range of the camera. Finally, while more of a last resort, using the time-lapse feature comes to your aid of users who place the camera in an area with a lot of false triggers that they can't avoid.
Note that when you turn on the time-lapse mode, the motion sensors are deactivated and the camera is only activated at the preset intervals that you selected.
Time Switch
Another fantastic feature of the Apeman H60 is its time switch. It is a timer that allows you to specify the times that the camera can record, which is very helpful if you don't want the camera to be active 24 hours a day. The time switch feature will save you both battery consumption and memory card space.
LCD Screen
When you open the camera's cover you will see the H60's 2.4-inch color LCD screen. Where you can view your captured photos and videos as well as view and change the camera's settings. Thanks to the color LCD screen, which admittedly comes on a lot of cameras these days, setting up the H60 is quick and easy.
Memory Card
As with all trail cameras, the H60 uses external storage media (memory card) to store the photos and video footage it captures. It supports microSD/SDHC memory cards with a capacity of up to 32GB. Class 6 or faster cards are recommended. As a bonus, this Apeman camera comes with a 16GB micro SDHC card.
That said, we always recommend having two memory cards for each trail camera, especially for cameras that are being used for hunting purposes, so you can minimize the amount of time you speeding in the woods. So when you are looking to buy a second memory card for the H60 the SanDisk 32GB Ultra microSDHC memory card is a great choice.
We have never been a big fan of using micros SD cards in trail cameras. Due to their small size, they are just too easy to drop when taking them in and out of the camera and it is only worse when you are doing it outside especially if you are doing it with cold hands. That said don't let this issue keep you from buying this camera, just remember to be careful when handling the memory cards.
Sale
Password Protection
You can restrict the use of the H60 by encrypting it with a password. To use the password protection feature you go to the settings and create a 4-digit figure that you can easily remember and then turn it on. Then going forward, anyone with the password can use the camera. This helps protect its contents, which can be even more valuable if you are using it for security purposes.
Batteries
The H60 needs 8 AA batteries to power it and is economical on battery consumption, with a standby time of up to 6-months. For the best performance and longest battery life, we recommend using Energizer Ultimate Lithium batteries.
Not sure why we recommend the Energizer Ultimate Lithium batteries? You can read our article on the best batteries for trail cameras to learn more.
Input for External Power Supply
This Apeman model has an input for an external power supply. You can use a 6V 2.0A external power supply unit with this trail camera.
Image Stamp
The image stamp feature shows you details about your recordings, which can be crucial when sorting through pictures and videos as you look for patterns of behavior with deer other game animals. The details included on the image stamp are the date, time, temperature, moon phase, and camera name.
Included Accessories
The following are the accessories provided in Apeman H60's packaging.
Mounting strap
16GB microSD card
Wall mount
Mini USB cable
User manual
Areas of Use
While the most popular use for this trail camera is hunting, you can use it in other areas like home security and surveillance. Given its affordable price, it is also a popular device for nature lovers who want to capture pictures and videos of wildlife that is in the area.
Regardless of how you want to use this APEMAN camera remember that low glow flash will cause the front of the camera to glow when the flash is in use, thus giving away the camera's location, which can be an issue if you are using the camera in a location where you are concerned that it might get stolen if its location becomes known.
Price
Price is always a crucial factor to consider when purchasing a trail camera. The APEMAN H60 is reasonably priced and competitive with similarly equipped trail cameras in its class. Then when you consider that it comes with a 16GB memory card included you can see that the H60 is a true value.
Other Options
Do you want to look at what other options are available? If so, you might want to check out our free Find Your Perfect Trail Camera Tool, which shows you trail camera options based on the criteria you select. Otherwise, we have picked out a couple of trail cameras, which are shown below, that we think you might be interested in.
APEMAN H55 Trail Camera
If you like a lot of the features of the APEMAN H60 trail camera, but really need a camera with no glow flash, so it can remain hidden at night when the flash is in use, the APEMAN H55 is a great option to consider.
Beyond the H55 using no glow infrared LEDs and the H60 using low glow LEDs there are only a couple of differences between these two cameras. The biggest difference is that the H55 has one PIR sensor with a 90degree detection angle compared to the 3 PIR sensors and 120 degree detection angle on the H60. Less significant differences include the H55 having a slightly small color LCD screen and using standard-sized SD cards as opposed to the microSD cards that are used in the H60. We actually did a full review of the APEMAN H55 if you want to read about the camera in more detail.
If you are interested in the H55 you will be pleased to hear that is typically priced less than the H60. You can check the current price of the APEMAN H55 here.
Campark T45A Trail Camera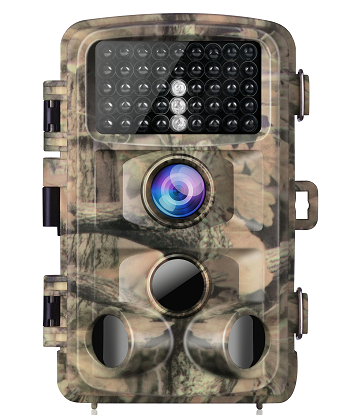 The Campark T45A, was upgraded from the original T45. The T45A is a low glow trail camera with a 20MP camera and 3 PIR sensors. It shares almost every feature with the APEMAN H60. People who like the APEMAN H60 might want to check out the Campark T45A if for no other reason than to compare prices and see if there is a sale. It is also worth noting that there is another T45A option that comes with a green camo exterior.
If you want to learn more details about the Campark T45A you might want to check out the full review we did on it. Otherwise, you can see the current price of the T45A here.
Final Thoughts
The APEMAN H60 is a great option for those looking for a trail camera with an affordable price and high-quality features. It has a huge 120° wide detection angle combined with an impressive 116° wide-angle lens to enable you to capture more shots and videos, which is helpful whether you are looking for patterns of animal behavior or monitoring your property.
You can check its current price here.
Last update on 2023-12-06 at 03:01 / Affiliate links / Images from Amazon Product Advertising API