Update: The GardePro A3S, which we also did a review on, is an upgraded version of the GardePro A3 trail camera. Other very slight differences between the camo patterns on the exterior of these two cameras and the A3S being able to capture 24MP pictures as compared to the 20MP images on the A3 model, these two trail cameras are the same. If you are looking for a traditional trail camera it is really hard not to be extremely happy with the performance of both of these cameras.
Like the A3, the A3S is also priced very affordably. You can check the current price of the GardePro A3s here.
Well-equipped trail cameras with no glow flash are something that almost everyone would like to get when buying a new trail camera. However, when we look at the prices of these cameras we usually need to adjust our plans and get a camera that has features that aren't anywhere near what we had hoped for or we need to spend a lot more than we originally intended.
That is why it is amazing to find the GardePro A3 trail camera. Not only does it come with a no glow flash, but its other features are what you would expect to find on higher-end trail cameras that cost much more than the A3
Introducing the GardePro A3 Trail Camera
No glow trail cameras like the GardePro A3 are very versatile. You don't need to worry about them spooking deer or other game animals or giving away the camera's location at night while the flash is in use. This combined with the high-end features found on the A3 helps to make it successful no matter where or how you plan on using it. Then to top it all off it is priced just a few dollars more than entry-level trail cameras.
This all might sound too good to be true. So let's take a closer look at the GardePro A3 to see if it measures up to your expectations.
Pros
24-megapixel photos
1080p video resolution
No glow flash
Long flash range
Long detection range
Wide detection angle
Fast trigger speed
Fast image recovery time
Easy to set up and use
Competitive price
IP 66 rated
Cons
Depending on the date when the camera was made you might need to do a firmware update, which is easy to do.
Review of Key Features and Benefits of the GardePro A3 Camera
Camera
One of the most attractive features of the GardePro A3 is its camera which uses Sony's ultra-clear imaging technology. Sony's Starvis sensor was specifically designed to perform well at capturing images in low-light situations. The A3's camera can capture 24MP images and records video at 1080p resolution at 30 frames per second.
On top of the picture and video modes that you find on virtually every trail camera, the A3 also has a photo+video mode which when selected has the camera capture a picture before recording a video every time the motion sensor is triggered.
Motion (PIR) Sensors
The A3 comes with three motion sensors on the front of the camera. The PIR sensor in the middle of the camera has a detection angle of 60°, while sensors on the left and right each have 30° detection angles, which brings the total detection angle to 120° for this GardePro trail camera. The sensors have an 82 foot detection range, which is one of the longest for trail cameras in the A3's price range. Since most trail cameras, especially at the entry-level price point, only have a 65-foot detection range, having an 82 foot range on this camera is a pretty big deal.
The PIR sensors have three sensitivity settings; high, medium, and low. If you find that you have set the camera up in an area that causes a lot of false triggers the trail camera gives you the option to turn off the side sensors.
Trigger Speed
Something else that makes this GardePro trail camera stand out from the rest is its fast trigger speed of 0.1 seconds. This is a very fast trigger speed for any trail camera, which will help to eliminate the chance that something will pass into the camera's field of view without being recorded.
Recovery Speed
Recovery speed refers to the time a trail camera takes before it is ready to take a second picture after taking the first picture. As you might imagine having a slow recovery speed can be almost as frustrating as slow trigger speeds.
Many manufacturers don't list the recovery speeds for their trail cameras, but thankfully GardePro does. The recovery speed for the A3 is at 0.5 seconds, which is a great combination with its super-quick trigger speed.
Flash
Perhaps the most attractive feature on the GardePro A3 is its no glow flash. It has 36 940nm infrared LEDs that have a 100 foot range. It is really impressive to find a no glow flash with this kind of range on such an affordably priced camera.
Dimensions
The A3's dimensions are 4.4 x 3 x 6.1 inches. While it isn't a mini trail cam it is still really compact when you consider the fact that GardePro has 3 PIR sensors on the front of the camera. There are several cameras currently being sold that only have 1 motion sensor and don't have color LCD screens that have significantly larger dimensions than the A3.
Time-Lapse Feature
Using the time-lapse feature is helpful If you want to monitor an area that is beyond the range of the motion sensor. It can also be useful if you have the trail camera posted in an area where you are getting a lot of false triggers and get it figured out. Note: If you are struggling with false triggers check out our article 5 Tips to Prevent Trail Cameras From Having False Triggers before using the time-lapse feature to fix your problem(s).
As with the time-lapse feature on most trail cameras, when it is turned on the motion sensors are turned off.
Hours of Operation Timer
The Hours of Operation Timer on the A3 will allow users to specify a specific time period each day when the camera will be in operation. This is a fantastic feature for people that don't need or want the camera to monitor an area 24 hours per day since it will extend the camera's battery life and help conserve storage space on the memory card when this feature is enabled.
LCD Screen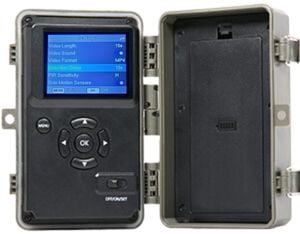 This GardePro trail camera comes with a 2.31-inch color LCD screen. Having a color LCD screen on any trail camera helps to make setting it up a quick and painless process. It also allows you to preview your pictures and videos in the field, which can be helpful when you want to verify that your camera is pointed at the precise location you want.
If you plan on using the LCD screen to view everything that your camera has captured when you are checking your trail camera you might be better off by buying an affordable memory card reader or viewer. You can learn more about memory card readers and viewers here.
Memory Card
Speaking of memory cards, another nice feature of the GardePro A3 trail camera is the type of memory cards it can support. The GardePro A3 supports SDXC memory cards with a capacity of up to 128GB. Class 10 cards are recommended by GardePro. We recommend using the SanDisk 128GB Ultra SDXC memory card.
Optionally, you may also use SD and SDHC cards with the A3. Click here if you want to learn more about what type of memory cards are best for trail cameras.
The amount of storage this camera can accommodate is impressive because most trail cameras these days can only accommodate cards with a maximum storage capacity of 32GB, which means that if you use a 128GB card in the GardePro A3 you will be able to store four times the pictures and videos before it gets filled up. This will allow you to leave the camera unattended for very long periods of time without having to worry about it running out of storage space.
It is also helpful to note that the A3 has a Loop Recording feature that, when enabled, will allow old files to get overwritten by newer ones in order to create more space should the memory card reach its storage capacity.
Password Protection
If you want to prevent strangers from being able to use the trail camera you can activate the password protection feature from the setting menu. When you enable this feature you will be prompted to create a 4-digit password that you will then be prompted to provide every time you use the trail camera.
Batteries
This camera is powered by 8 AA batteries. GardePro recommends, just as we do, that you use lithium batteries at low temperatures to get the best performance from the A3. We suggest using Energizer Ultimate Lithium batteries. If you want to further extend the amount of time you can leave the camera in the field you can do things like specifying, or limiting, the hours of operation, adjusting the flash settings, and adjusting the motion sensors' settings.
You can read our article about the Best Batteries For Trail Cameras if you want to learn more about why certain batteries provide trail cameras with better performance and longer battery life.
Input for External Power Supply
This GardePro trail camera also has an input for an external power supply, which is fantastic if you want to leave the camera in the field for extended periods of time and don't want to worry about the batteries dying. Compatible external power supply units have to be 12V and 1A, with a 4.0 x 1.7mm plug.
Using an external power supply unit with the A3 is a great idea. The whole idea behind using an external power supply is to leave the camera unattended for long periods of time, but with most cameras that means you run the risk of running out of storage space on your memory card, which is especially true if you like to take videos. However, with the A3 being able to accommodate 128GB memory cards the likelihood of ever running out of storage space is very small.
Image Stamp
The image stamp on the A3 shows the time, date, temperature, moon phase, and camera name from when the images or videos were captured.
Using the information on the image stamp can be very helpful as you sort through pictures and videos of deer or other game animals as you try to find patterns of behavior at certain times or during certain weather conditions.
Included Accessories
Included in the box with the GardePro A3 trail camera are the following:
1 mounting strap
1 mini USB cord
Instruction manual
It would be great if GardePro included a threaded mounting tripod like a lot of other trail camera manufacturers are starting to include with their cameras, but this shouldn't be a deal-breaker. If you really want a mounting tripod you can pick one up for cheap.
Areas of Use
With its long flash and detection ranges to go along with its no glow flash the GardePro A3 is a very adaptable trail camera. It should work well for you on both public and private hunting land as well as do a good job if being used for home security purposes.
The only ways in which the A3 trail camera might not cover all the bases for you would be if:
You want to mount the trail camera from an elevated position and would like WiFi connectivity so you won't need to use a ladder every time you check the camera.
If you need to receive the pictures and videos your trail camera captures as soon as they are captured. If that describes your situation you probably want to consider getting a cellular trail camera. If you are interested in getting a cellular trail camera and don't know where to start you might be interested in reading our article on the Best Cellular Trail Camera Reviews and Buying Guide.
Price
The GardePro A3 has a very affordable price and is an option even for those people who are looking at buying multiple trail cameras. Plus, when you compare the A3 to trail camera models from other manufacturers it will usually have better features and specifications, which makes it a terrific value.
Other Options
Do you want to look at what other options are available? If so, you might want to check out our free Find Your Perfect Trail Camera Tool, which shows you trail camera options based on the criteria you select. Otherwise, if you like the REVEAL X-Pro, but are just wondering about what other cellular trail camera options might be out there, we have identified some other great options for you, which are shown below.
Campark T86 Trail Camera
If you like the A3, but want WiFi-enabled no glow trail camera the Campark T86 is a great model for you to consider. Other than having WiFi and Bluetooth connectivity, the T86 is very similar to the A3, but it actually has a couple of other features that are better than the A3 such as having an adjustable shutter speed and being able to record videos in 1296p resolution. Conversely, the A3 has a longer flash and detection range than the T86.
So if you need a competitively priced WiFi trail camera the Campark T86 is a great option. However, if you don't need a camera with WiFi functionality you could choose to save some money and buy the A3.
Click here if you want to see the current price of the Campark T86. We also did a full Campark T86 review if you want to read more about what we found when we reviewed the T86.
Final Thoughts
For people on a budget who are looking for a high performing, no glow trail camera the GardePro A3 trail camera is just what you have been looking for. Boasting several high-end features along with impressive flash and detection ranges the A3 is ready to give you top-notch performance.
You can check the A3's current price here.
Last update on 2023-12-06 at 02:49 / Affiliate links / Images from Amazon Product Advertising API