If you have a 4K trail camera you most likely bought it to capture the amazingly detailed 4K video. However, recording video, especially if the camera is posted in a busy location, can really drain your batteries. If you let the camera soak for long periods of time before checking the videos it has captured, worrying about the batteries running out is a legitimate concern. This is why getting a trail camera with a built-in solar panel is such an attractive idea.
However, won't a 4K trail camera with an included solar panel be too expensive – especially if you want the camera to have high-quality features and specs?
Yes, the high cost for 4K trail cameras is a legitimate concern. That is why we are excited to see that Campark, a company that has been bringing affordable high performing trail cameras to outdoor enthusiasts since 2008, has come out with their Campark T150 4K trail camera. In addition to being able to record 4K video, this affordable 4K trail camera is loaded with a bunch of great features – including a built-in solar panel to help take trail camera performance to the next level.
Introducing the Campark T150 Trail Camera
Made by a very capable trail camera manufacturer, the Campark T150 trail camera is a great choice for anyone looking for a highly versatile trail camera. This rugged IP66 rated camera has a number of great features, including 4K recording at 30fps, WiFi and Bluetooth connectivity, and the previously mentioned built-in solar panel.
Pros
4K video recording
High-resolution pictures
Built-in solar panel
WiFi and Bluetooth connectivity
Fast trigger speed
Wide detection angle
Several customizable settings
IP66 Weatherproof – If you aren't sure exactly what these IP ratings mean you can click here to learn more.
Cons
Low glow flash
Uses micro SD cards
See Current Sale Price and Learn More Here
Review of Key Features and Benefits of the Campark T150 Trail Camera
Camera
In addition to a camera that can capture crisp, sharp images with a 30-megapixel resolution, the T150 from Campark can record fantastic 4K videos at 30 frames per second (fps). If you are not familiar with the topic of frames per second in video recording you can learn more in our article, What Frame Rate Should Your Camera Have? Otherwise, just know that 30fps is a good frame rate and it is what we tell you to look for in our article about what to look for when buying a 4K trail camera.
While the T150's biggest selling point is its 4K video recording capabilities, it is also worth mentioning that it can record video at lower resolutions should you want or need that option.
In addition to the standard photo and video modes, the T150 has a photo+video mode where it can take pictures before recording video. This feature really helps to diversify what the camera captures.
The camera also has an adjustable shutter speed, which is something most trail cameras don't have. It has settings of 1/15, 1/20, 1/30, with the default setting being 1/30.
Note: The Campark T150 trail camera was originally released as a 2K trail camera. However, it was made with components that allow it to record 4K videos. All that was needed to record 4K videos is to update the software on the camera. You can get the free upgrade software and see how to install it here.
Bluetooth, Wi-Fi, and App Control
In addition to the ability to record 4K videos one of the most attractive features of the T150 is its Bluetooth and WiFi connectivity. You first connect to the trail camera via Bluetooth and turn on the camera's WiFi signal. Once your smartphone or tablet is connected to the trail camera via its WiFi signal, the camera can be controlled through your smartphone using the free app, Game Camera Pro, which is available from Campark for both IOS and Android devices. The easy-to-use app not only allows you to adjust the camera's settings but also lets you view and download pictures and videos on your phone.
The exact range of the Bluetooth and WiFi can vary. The environment the camera is placed in along with the device you are connecting to the trail camera with can impact the range. However, you should expect to connect to the T150 from a range of approximately 50 feet.
Motion (PIR) Sensor
The centrally located passive infrared (PIR) motion sensor on the T150 has a 65-foot detection range and a 120-degree detection angle.
Similar to some other trail cameras out there, the T150 also has adjustable motion sensor sensitivity, where you can set it to high, medium, or low, with medium being the default setting. That said, in most situations, I like to start out having the camera set to the high setting so it can capture the most activity. However, if the camera does end up having a lot of false triggers you will want to set the sensitivity to a lower setting.
Trigger Speed
The trigger speed on this camera is 0.1 seconds. This makes it one of the fastest out there, which will help ensure that nothing passes by the T150's lens without being documented.
Flash
The T150 comes with a 36pcs 850nm low glow IR flash. Its maximum range of 65-feet is a pretty common distance and is found on a huge number of trail cameras these days. The flash has adjustable settings of auto, medium, low, and off, which really allows you to customize the flash to the camera's surroundings.
The only two possible drawbacks to the flash are its low glow LEDs and flash range, which could limit its flexibility.
If you plan on using this Campark on public hunting land or for security purposes the low glow flash could give away the camera's position at night, as the LEDs will make the front of the camera have a slight red glow whenever the camera is capturing pictures or videos. One possible way around this issue would be to use the included mounting tripod to place the camera in an elevated position where it would be less likely to be seen, which is common practice with security cameras.
If you expect that the location you want to put the camera in will commonly have activity that is beyond 65-feet away with no way to get the camera closer to the area of interest, then you might want to look for something with a longer flash range. The problem is that there aren't a lot of options for trail cameras with built-in solar panels, so the options will be limited.
All that said, the T150's flash will provide sufficient illumination in the vast majority of situations.
Dimensions
The camera has a very compact size and measures 5.7 x 4.1 x 3.7 inches. This is especially true when you consider that the T150 has a built-in solar panel.
The camera's small size will help make it easier to conceal and hide from any potential thieves or vandals.
Time-Lapse Feature
The time-lapse feature is one of the several features that help to make the T150 well worth its purchase price. The time-lapse feature is especially useful if you want to monitor activity in an area that is beyond the range of the motion sensors or want to capture a slow occurring event.
One thing that you need to remember when using the time-lapse feature is that it will disable the camera's motion sensor. meaning that the camera won't be triggered to take photos or record video when an object comes into the detection area. So the only photos the camera will take will be at the selected time intervals you specify.
Hours of Operation Timer
When enabled, the Hours of Operation timer, or Monitoring Period Timer as Campark calls it, allows users to specify a specific time period each day when the camera will be in operation. This is a fantastic feature for people that don't need or want the camera to monitor an area 24 hours per day since it will extend the camera's battery life and help conserve storage space on the memory card when this feature is enabled.
LCD Screen
The T150 has a 2-inch color LCD screen, which makes getting the camera up and running or changing its settings quick and easy. While the screen is on the small side compared to some other trail cameras, it is more than adequate for what you need. Plus, after you initially get the camera set up, there probably won't be a big need to use the screen since you can change the camera's settings as well as view pictures and videos from a distance using the app on your compatible smartphone or tablet.
Memory Card
The Campark T150 uses Class 10 microSD, microSDHC, and microSDXC memory cards with a maximum capacity of 128GB. U3 cards are recommended. We are not big fans of microSD cards as their small size makes them easy to lose or misplace, especially when you are in the field and this problem only gets worse when the weather gets cold. That said, the type of memory card that the T150 uses shouldn't prevent you from buying the camera if it otherwise meets your needs.
Campark also equipped this camera with a Loop Recording option that will cause the oldest files to be overwritten with new captured pictures and videos should the memory card become full. If you decide to buy the T150 we suggest you get the SanDisk Extreme Pro 128GB microSDXC class 10 memory card. Not only will it perform well, but its large capacity will allow you to leave the camera unattended for long periods of time without having to worry about running out of storage space. Whatever memory card you use remember to format it before using it in the camera for the first time.
If you want to understand more about which memory cards are best for trail cameras you can read our article about the Best SD Cards for Trail Cameras.
Sale
SanDisk Extreme Pro SDXC UHS-I U3 A2 V30 128GB + Adapter, SDSQXCY-128G-GN6MA
Built for extreme conditions Temperature proof, water proof, shock proof, and X-Ray proof
Delivers 4K Ultra HD and full HD video recording and Playback
Meets the new UHS speed Class 3 (U3) and UHS video Speed Class 30 (V30) for 4K UHD
Read transfer faster with speeds up to 170MB/s
A2 rated for Android app performance.
Password Protection
The password feature on the Campark T150 is easy to use and set up. Just go to the camera's settings and select the Password option. Enter a password of your choosing into the fields provided. Then save the changes. It is that simple.
When enabled the password protection feature will protect the camera from all unauthorized access. The camera will prompt the user for the password each time anyone attempts to access any of the features or settings.
Solar Panel
The solar panel is integrated directly on the top of the T150 so there is no need to mount the solar panel separately above the camera as you would with most other trail cameras. It has an internal rechargeable battery with a 4400mAh capacity to power the camera both day and night.
Batteries
In addition to the solar panel, the camera can be powered by 4 AA batteries. While not required to use AA batteries in the camera, using AA batteries in the T150 will provide the camera with a backup power source, which can be helpful should the camera go through a period where it isn't exposed to enough sunlight or is in an area with an extreme amount of activity and the battery in the solar panel gets low. If the power in the rechargeable battery gets down to 10% the camera will automatically switch to the AA batteries that were installed by the user. Due to their consistent voltage output, even in cold temperatures, we recommend using Energizer AA Ultimate Lithium batteries for the best camera performance.
Energizer AA Ultimate Lithium batteries
24 Pack of Energizer Ultimate Lithium AA Batteries
Leak proof construction protects the devices you love (based on standard use)
Powers your most critical devices ideal for your smart home devices, outdoor surveillance systems, digital cameras, and handheld games
Holds power up to 20 years in storage for trustworthy backup energy, so you're always prepared. Warning: Risk of fire. Battery can explode or leak and cause injury if installed backwards, disassembled, charged, crushed, mixed with used or other battery types, or exposed to fire or high temperature
Performs in extreme temperatures, from -40F to 140° F, for year round, indoor and outdoor use
Input for External Power Supply
Campark didn't add an input for an external power source to the T150. That said, because of the built-in solar panel, in addition to the batteries, you already have a couple of ways to power the camera. So you really shouldn't miss not having another power input on the camera.
Furthermore, in addition to helping to keep the price of the camera down, not providing an input for an external power source on the camera could actually keep it safe. This is because the opening for the input for an external power supply can be an entry point for insects to enter your camera and ruin the electronics if the rubber plug to seal the opening isn't completely inserted or left out altogether.
Image Stamp
The image stamp on the Campark T150 shows you details about each photo or video it has captured. Included are the date, time, temperature, moon phase, and camera name, which can really aid you as you look for patterns of behavior with deer or other game animals.
The default name of the camera is "Campark-T150", but Campark also lets you give a unique name of your choosing to the camera, which is really helpful when you have multiple cameras and need to keep track of which camera and/or location you are looking at when viewing your pictures and videos.
Included Accessories
Campark includes a lot of extras with their T150, which makes getting the camera set up and ready to use as easy as possible. These items include:
Mounting Belt
1 – Threaded mounting tripod – This bracket makes it easy to mount the camera from almost any angle.
3 – Mounting screws
1 – USB Cable
User Manual
Areas of Use
The T150 is an all-around great camera that you can use for a wide variety of applications. The solar panels allow you to use it in remote locations that you don't get to very often without having to worry about the camera running out of power. Plus, thanks to its Bluetooth and WiFi connectivity you can mount the camera in elevated and other hard to get to places, and when you go out to check on the camera you won't need to worry about having to climb trees or bring ladders with you in order to see what it has captured or to change the camera's settings since you can stand safely nearby and access the camera with your smartphone or tablet using the convenient app.
Remember that the glow of the IR flash makes it easier to spot the camera at night. When the camera is being used on public hunting land or as a security camera, it might be better to consider a camera with a no glow flash if keeping the camera's location completely concealed at night is absolutely essential.
Pricing
The T150 is one of the most affordable 4K trail cameras. Its 4K video quality at 30fps, built-in solar panel, and many adjustable settings make it a great value for its low price. Then when you look at its solar panel and how much it will save on batteries, you see that it is even more of a bargain.
Other Options
Campark T100 4K Trail Camera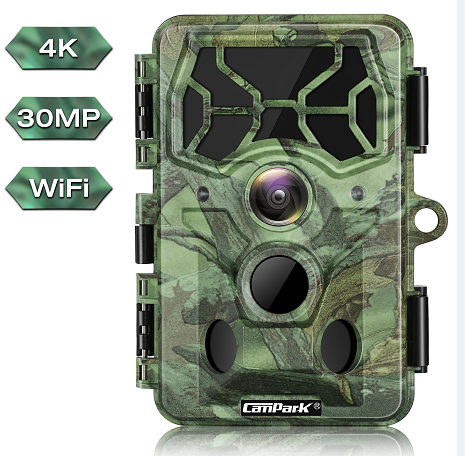 If you like the 4K video offered by the T150, but would like to have 3 PIR sensors to have even more control of the camera's detection area and don't need a solar panel the Campark T100 4K is a great choice.
If you want to learn even more about the camera you can read the review we wrote about the Campark T100 here.
Campark often has sales on their trail cameras. This is on top of frequently offering discounts for first-time customers. You can see the current price of the Campark T100 4K trail camera here.
SPYPOINT LINK-MICRO-S-LTE Solar Cellular Trail Camera
If you like the idea of being able to post a trail camera in a hard to reach location or elevated position like you can with the Campark T150, but want to reduce human impact by not having to physically check the camera and don't want to have to worry about battery life if you leave the camera unattended for long periods of time the SPYPOINT LINK-MICRO-S-LTE Solar Cellular Trail Camera could be perfect for you.
The differences between the SPYPOINT LINK-MICRO-S-LTE and the T150 include the LINK-MICRO-S-LTE not having as high of a resolution of a camera as what is found on the T150. In fact, not only can't you record a 4K video on the LINK-MICRO-S-LTE, but you can't record video on it at all. However, this isn't all bad since many cellular trail cameras don't take or transmit videos anyway and most won't send high-resolution photos or severely limit the number you can transmit each month.
The great part about this SPYPOINT cellular trail camera is that it eliminates the need for you to physically go out to check your camera to see what it has captured Plus if you live far away from where you have the camera posted it will save you a lot of money in gas since you won't have to travel to check the camera and this is on top of the money you will save on batteries thanks to its solar panel.
We previously did a full review of the SPYPOINT LINK-MICRO-S-LTE. It comes in two versions, the SPYPOINT LINK-MICRO-S-LTE (AT&T) and the SPYPOINT LINK-MICRO-S-LTE-V (Verizon). You can check the current prices here.
Campark T180 4K Trail Camera
The Campark T180 4K trail camera has many of the same features and specs as the T150 including its built-in solar panel, Bluetooth, and WiFi connectivity.
Key differences between the T180 and the T150 include the T180 having a camera that can capture 36MP pictures instead of the 30MP images found on the T150. The other big difference is that instead of the 1 PIR sensor found on the T150 the T180 has 3 motion sensors.
The central PIR sensor with a 60° detection angle and the two side sensors, each with its own 30° detection angle give the T180 a total detection angle of 120°, which is the same as the T150. However, with the 3 sensors on the T180, you will have the option to disable the side sensors if needed, which along with the adjustable PIR sensitivity is immensely helpful if you put the camera in a location where it is struggling with false triggers.
We also did a review on the Campark T180 trail camera if you want to learn more about what we thought about it.
If you need the extra functionality that comes with the T180, you can get it for just a few dollars more than the T150. You can see the current sale price of the T180 here.
Browning Recon Force 4K EDGE Trail Camera
If you want a top-of-the-line 4K trail camera, but don't need wireless connectivity or a solar panel like on the Campark 150 the Browning Recon Force 4K EDGE trail camera is a tremendous option. However, what the Recon Force 4K EDGE has that the T150 doesn't is the ability to take 32MP pictures to go along with its longer flash and detection ranges.
If you decide that you want to extend the amount of time you can leave the Recon Force 4K EDGE out in the field its external power port on the Recon Force 4K EDGE accommodates Browning's Trail Camera Power Pack as well as their Trail Camera Solar Panel.
You can check out our full review to read all of our thoughts about the Browning Recon Force 4K EDGE. Otherwise you can check out its current price here.
Final Thoughts
The Campark T150 4K is a great all-around trail camera. It has everything you need to get the job done in a wide variety of situations. Having Bluetooth and WiFi connectivity means you can mount it in elevated and other hard to get to places. Meanwhile, the solar panel saves you a ton of money over time on batteries.
To make it even better Campark often runs sales on their trail cameras on top of frequent discounts for first-time buyers. You can check the current price of the Campark T150 here.
Last update on 2023-12-06 at 03:01 / Affiliate links / Images from Amazon Product Advertising API