Over the years there have been a lot of advancements in the technology that goes into trail cameras. Now we have trail cameras that can record video in 4K and have the capability to support massive memory cards that are capable of storing almost mind-boggling amounts of video footage and pictures.
With all of the advancements in trail camera technologies, one challenge that even the most advanced trail cameras continue to face are power issues and the limitations associated with battery use. If you use alkaline or rechargeable batteries performance can suffer and battery life is limited. For the longest battery life and best performance, the more expensive lithium batteries are the way to go, but eventually, even lithium batteries need to be replaced. The only other option would be to buy an external power source, like a solar panel, but on top of their cost they are another thing that needs to be mounted and can often give away the location of the trail camera pretty easily. So as you can see there often isn't an easy solution when it comes to the best way to power trail cameras.
Lucky for us, the Campark T200, with its 4K video recording, wireless connectivity, and included solar panel that blends right in with the camera, is one of the few trail cams that can check all the boxes for many of the most demanding trail camera users.
Introducing the Campark T200 Trail Camera
The Campark T200 is a 4K trail camera that also features wireless connectivity and comes with an included solar panel, which allows you to leave the camera unattended for extended periods without worrying that it will run out of power. With several adjustable and high-end features, it is a very versatile trail camera.
Take a look at our Campark T200 review to learn about its other features.
Pros
4K video recording
High-resolution pictures
Solar-powered; hence, it doesn't require batteries
WiFi and Bluetooth connectivity
Fast trigger speed
Wide detection angle
Cons
Low glow flash
Solar panel doesn't have a camo pattern on its exterior like the camera does
Setup and wireless connection might feel like a lot at first- especially for some less tech-savvy beginners
See Current Sale Price and Learn More Here
Review of Key Features and Benefits of the Campark T200 4K Trail Camera
Camera
The camera is certainly one of the T200's biggest selling points. It can take high-resolution 30MP pictures and record 4K videos @30 frames per second (fps). Recording 4K video @30fps is ideal, but not all 4K cameras offer this frame rate (you can read more about the importance of frame rates here). However, if you want smaller file sizes to save space on your memory card you can choose a lower video resolution such as 2K video @30fps or 1080p video @30fps. The same applies to pictures, where in addition to the highest setting of 30MP you have multiple other options to choose from starting with 24 megapixels going all the way down to 3 megapixels.
To further add to the camera's versatility it also has an adjustable shutter speed with settings of 1/15, 1/20, and 1/30.
If you are a fan of both pictures and videos there is also the photo+video mode, where the camera takes some photos then records a video.
Built-In WiFi and App Control
The T200 solar-powered trail camera has both WiFi and Bluetooth connectivity. This means that you can view or download pictures and videos as well as update the camera's settings from your mobile phone. In order to do this, you need to download the free Hunting 4K app, which is available for both iOS and Android devices.
When connecting to the camera wirelessly you will start by connecting it via Bluetooth with your phone. Once connected via Bluetooth you will be able to turn on the camera's WiFi. From here, you can access the camera on the Hunting 4K app.
Motion (PIR) Sensor
The T200 has three motion sensors, giving the camera a combined detection angle of 120°, which is very wide. It has a detection range of 65-feet, and with three sensitivity settings, you can customize the camera's setup for the area you are using it in.
As with most cameras that have three motion sensors, you have the option to turn off the side sensors, which can be helpful if you end up using the camera in an area where you are receiving a lot of false triggers.
Trigger Speed
Having a fast trigger speed helps to ensure that no moment passes your lens without being documented. At 0.2 seconds, the Campark T200 has one of the fastest trigger speeds in the market. To give you a picture of how fast it is, a huge percentage of current trail cameras have a trigger speed of around 0.5 seconds.
Flash
This Campark model has a 36 pcs 850nm low glow infrared flash, with a range of 65 feet, which is about the norm for low glow flashes these days. The flash is adjustable with settings of Auto, Economy, and Off.
Time-Lapse Feature
Like many other trail cameras these days, this model has a time-lapse feature, which can be very helpful if you want to monitor activity in an area, like a field, that is beyond the range of the motion sensors.
Note: When using the time-lapse feature the PIR sensors will be turned off and cannot be triggered when something comes into the detection area. So the only photos the camera will take will be at the predetermined time intervals that you select.
While using the time-lapse feature isn't the ideal way to deal with false triggers if you are using the camera in a location where you are getting a ton of false triggers and can't seem to get rid of them, enabling the time-lapse feature could be an option.
The time-lapse mode is also great if you want to capture slow-moving or gradual processes in nature.
Hours of Operation Timer
The monitoring period timer, when enabled, will turn on the camera between certain specified times during the day (that you select). By not capturing pictures and videos you don't need or aren't interested in, this feature will not only help boost the life of your batteries (if you aren't using the solar panel), but it will conserve space on your memory card as well.
LCD Screen
A 2.4-inch LCD color screen allows you to view photos and easily change settings. However, once you initially get the camera set up there is not much use for the LCD screen – especially if you plan on using the free smartphone application to view, or download, photos, and videos and to update the camera's settings.
Memory Card
As with all trail cameras, the Campark T200 will need to utilize a memory card to store your photos and videos. It uses Class 10 SD/SDHC/SDXC memory cards with a capacity of up to 128GB. U3 cards are recommended. The SanDisk 128GB Extreme PRO SDXC memory card is a great choice. Always remember to format your memory card before using it for the first time in the camera.
You might be tempted to purchase a cheaper memory card with a lower storage capacity, but we don't advise people to do that for a couple of reasons. First, people who buy the T200 are usually attracted by the camera's ability to record 4K videos, which have larger file sizes that take up more storage space. Second, another main attraction of this Campark trail camera is its included solar panel which allows you to not check the camera for extended periods of time without worrying about it running out of power. That said, the camera won't capture any of those amazing 4K videos if it runs out of space to store them. So we recommend spending the extra few dollars on a 128GB memory card.
Password Protection
The password protection feature restricts the use of the camera to only those who have a password. To set up the password simply go into the camera's menu and select the Password Setting option where you will be prompted to create a password of your choosing before enabling the feature.
Solar Panel
Fitting directly on top of the T200 the included solar panel doesn't require separate mounting the way other solar panels would. The panel's built-in rechargeable battery has a 2500mAh capacity so it can provide the camera with enough power to operate both day and night.
While it can't be submerged in water, the solar panel is wind and water-resistant with an IP65 rating. So you should expect it to serve you for a long time, regardless of weather conditions.
The one negative thing we have to say about the solar panel is that its exterior plastic casing lacks that same camo pattern that is found on the camera. This allows the camera and solar panel to be more easily noticed by passers-by, which could be a problem for those people who need the camera and solar panel to blend into its' surroundings.
Input for External Power Supply
There is an input for an external power supply. Since the T200 has a built-in solar panel you probably won't use it, but if you do know that this Campark model would use a 6V, 2A external power source. Compatible plug heads should have a 3.5mm and 1.3mm in external and internal diameter, respectively.
Batteries
You technically don't need to use batteries with this camera if you are using the included solar panel, but you could opt to put batteries in the camera as a backup power source in case something ever happens to the solar panel.
As far as using batteries in the T200 goes it can be powered by either 4 or 8 AA batteries with lithium batteries being the preferred type. Campark doesn't recommend using rechargeable batteries due to their lower voltage output and poorer performance in cold temperatures. For best performance and longest life we suggest using 8 AA Energizer Ultimate Lithium batteries.
Image Stamp
The image stamp shows you details about when your video or photos were taken. Some of the features included on the T200's image stamp include the date, time, temperature, moon phase, and camera name.
While you do have the option to turn the image stamp on or off, you probably want to leave it on. Using the information provided on the image stamp helps make sorting through pictures and videos a hassle-free process, which is even more true if you are looking at files from multiple cameras.
Included Accessories
Below are the accessories you will find included with the Campark T200's packaging.
1 Solar Panel
1 Power Supply Cable (to connect the solar panel to the camera)
1 Mounting Belt
1 Wall Mount
3 Mounting Screws
1 USB Cable
Areas of Use
Campark T200 trail camera is a great tool to help you scout game animals or help monitor your home or business. Its wireless connectivity and solar panel will allow you to mount it in hard-to-access areas, such as elevated positions, without worrying about needing to physically access the camera to change batteries or swap out its memory card.
The only uses that might not be appropriate for the T200n would be those where you need to keep the camera's location hidden at night since the low glow flash will make the front of the camera glow red when it is in use at night.
Pricing
The Campark T200 is not a cheap, or entry-level, trail camera, but its list of outstanding features makes it worth the price. In fact, it is actually priced less than some other 4K trail cameras that don't have features like WiFi or an included solar panel like you will find on the T200.
Other Options
Do you want to look at what other options are available? If so, you might want to check out our free Find Your Perfect Trail Camera Tool, which shows you trail camera options based on the criteria you select. Otherwise, we have picked out a couple of trail cameras, which are shown below, that we think you might be interested in.
Campark T100 4K Trail Camera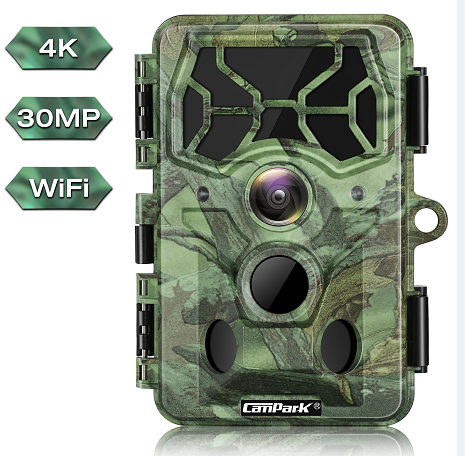 If you like the Campark T200, but don't need or want the solar panel that comes with it, the Campark T100, which we also did a full review on, is a fantastic choice and a great way to save some money on the price. Once you take away the solar panel the T100 is essentially the same camera. The only real difference between these two is that the T100 has a slightly different-looking exterior case and comes with a slightly slower trigger speed. Otherwise, these two cameras have the same features and specs. You can check the current sale price of the T100 here
Browning Recon Force 4K EDGE Trail Camera
If you want a 4K trail camera, but need something with a longer flash and detection range than what you find on the Campark T100 the Browning Recon Force 4K EDGE could be the perfect option. We did a review of the Recon Force 4K EDGE and were impressed.
Typically priced a bit more than the Campark T200 the Browning Recon Force 4K EDGE doesn't have wireless connectivity or an included solar panel like the T200, but it has some features that you won't find on the T200. These features include an adjustable low glow flash with a longer range, a longer detection range, Browning's Smart IR video feature, and an SD card management feature that when enabled will allow the camera to automatically delete older pictures and videos to make room for new ones should the memory card become full.
Click here to see the current price of the Browning Recon Force 4K EDGE.
Campark T90 4K Lite Trail Camera
If you want a 4K trail camera, but don't want to pay the higher price that you would find with the T200 or the Browning Recon Force 4K Edge the Campark T90 4K Lite Trail Camera with WiFi and Bluetooth is an excellent option to consider. Priced significantly less than other 4K trail cameras, we liked the T90 when we reviewed it. While it doesn't have a solar panel like the T200, it does share the T200's wireless capabilities.
The big difference between the Campark T90 and the T200 or T100 is that the T90 records 4K video @10fps, which is just fine for places like food plots where there isn't a lot of fast movement, but when there is fast movement those objects won't look as crisp when you watch the video (despite the still images having high amounts of detail when you pause the video). The 4K frame rate on the T90 is more similar to what you would expect in a security camera. If you are not familiar with the concept of frame rates you can read our article about frame rates and how they impact trail cameras.
You can check the current price of the Campark T90 here.
Final Thoughts
The Campark T200 is a top trail camera that offers a fantastic price-to-quality ratio. Its ability to record 4K UHD video, fast trigger speed, wide detection angle, and WiFi give it performance that is hard to beat. With its built-in solar panel, you can leave it for extended periods without worrying about it running out of power like other cameras.
You can check the current sale price of the T200 here.
Last update on 2023-12-06 at 02:49 / Affiliate links / Images from Amazon Product Advertising API