Even though there is an increasing number of 4K trail cameras available in the market today, finding a 4K trail camera that is affordable, easy to use, and comes with the other features you are looking for can be a challenge.
Too often it is a choice between getting a 4K trail camera that doesn't have all the features you need or spending more than you want to in order to get the features you need.
So the Campark T90 4K Lite Trail Camera is a trail camera is a welcomed option since it is both affordable and has all of the important features that most people are looking for in a high-quality 4K trail camera.
Introducing the Campark T90 Trail Camera
While the Campark T90 is priced a bit higher than entry-level trail cameras, it is an absolute bargain when compared to most other 4K trail cameras. After seeing its affordable price most people are surprised to see its long list of high-end features including wireless connectivity, wide detection angle, and fast trigger speed.

Pros
Ability to record 4K videos
Wi-Fi and Bluetooth connectivity
Can be controlled with a free app on your mobile phone
Fast trigger speed
3 motion sensor with wide detection angle
Easy to use
Affordably priced
IP66 Weatherproof
Cons
Frame rate for 4K videos is 10fps
See Current Sale Price and Learn More Here
Review of Key Features and Benefits of the Campark T90 Trail Camera
Camera
The T90's camera is one of its best features. It has a photo resolution of 24 megapixels, which is among the best in the market, considering that most trail cameras currently capture images at 16-20 megapixels. It is also in the minority of cameras that can record 4K video with audio.
It is also important to note the 4K video is described as 4K Lite, which refers to the fact that it records its 4K videos at a lower frame rate (10 frames per second), which can make videos of faster-moving objects look "choppy". By comparison, most trail cameras (including this one) record 1080p video @30fps, which can capture fast-moving objects without having the video look choppy when you watch it back. If you are interested in learning more about frame rates you can read our article, What Frame Rate Should Your Camera Have.
Additionally, this trail camera has the photo+video mode, where the camera will capture a specific number of photos then start recording a video. This mode helps in the diversity of your recordings.
Built-In WiFi and App Control
A crucial selling point of this trail camera is its built-in Wi-Fi and App control, which allows you to access the camera using your smartphone. You connect your phone to the camera via Bluetooth to turn on the T90's WiFi signal. Then using the Campark's Hunting Camera app you will be able to connect to the camera's WiFi signal to view and download pictures and video as well as change the camera's settings.
There is a version of the application for both iOS and Android devices and is free to download and use.
Motion Sensors
The Campark T90 has three motion sensors that give it a 120-degree detection angle. Coupled with a 65-foot detection range, the sensors can detect a wide area, ensuring no disturbance goes unrecorded.
To allow you to customize your setup the T90 also has adjustable PIR (motion sensor) sensitivity with high, medium, and low settings with medium being the default setting. Plus, the side sensors can be turned off if the camera is placed in an area where it is getting a lot of false triggers.
Trigger Speed
A trail camera's trigger speed measures the amount of time that is elapsed from when the motion sensor detects a disturbance until the camera begins capturing pictures or video. The T90 has a trigger speed of 0.2 seconds, which is among the faster cameras out there at this time.
Flash
The Campark T90 trail camera comes with 38pc 850nm infrared LEDs. This low glow flash can illuminate objects up to 65-feet away.
Time-Lapse Feature
Like many other cameras out there this Campark model also offers a time-lapse mode. When it is activated the camera will take pictures at regular time intervals that you specify. This is a terrific feature if you have the camera set up in a place where it gets a lot of false triggers, if you want to monitor an area that is beyond the reach of the PIR sensor, or if you want to document slow-moving natural processes.
It is worth pointing out that when using time-lapse feature the PIR sensor will be disabled and cannot be triggered. This is the way this feature works on the vast majority of trail cameras that have it. So the only photos the camera will take will be at the time intervals you have selected.
Working Timer
The working timer is a feature that you will rarely see in most trail cameras. If you only want the camera to be in operation during one part of the day you can use the working timer. When this feature is turned to ON the camera will only capture pictures and videos between the start and end times that you specify.
The working timer can come in handy if you want improved battery life and would like to conserve storage space on the memory card..
LCD Screen
When you open the camera cover you will see its 2.4-inch color LCD screen. You can use the screen to view your footage and tweak the camera's settings. However, it is not a must to check the camera using the LCD screen if you have the free mobile application and connect wirelessly.
Memory Card
The T90 supports SD/SDHC/SDXC memory cards with a capacity of up to 128GB. Class 10, U3 cards are recommended. The SanDisk Extreme Pro 128GB SDHC memory card is a great option for this camera.
Password Protection
If you want to restrict access to the camera, you can set a password. After creating your password and turning on the password protection feature you will be required to provide your password any time you want to use the camera.
Batteries
The T90 can be powered by either four or eight AA batteries. It is pretty economical on energy use as one set of 8 batteries can last up to 6 months if 50 pictures are taken every day. For best performance and longest battery life, it is advisable to go for eight batteries.
Campark does not recommend using rechargeable batteries in this camera because of their lower voltage output and poor performance in cold temperatures. We suggest using Energizer Ultimate Lithium batteries. If you want to learn more about why we suggest the batteries we do you can read our article on the best batteries for trail cameras.
Input for External Power Source
If you are interested in being able to leave the camera unattended for extended periods of time, you will be happy to know that it can use an external power source. The T90 has an input for external power and can accommodate a 6V/2A power supply with a plug head that has a 3.5mm external and 1.3mm internal diameter.
You can go with a Campark solar panel (shown above), that they designed specifically for trail cameras. You can check out the price of the Campark BC179 Solar Panel here.
Image Stamp
An image stamp contains important details about when pictures or videos were taken, which can be very helpful as you sort through what your camera has captured. Having this information when monitoring game animals can be invaluable as you look for patterns of behavior.
The image stamp on the T90 includes the date, time, temperature, moon phase, and camera id (they call it serial number), which is pretty much what you expect on most cameras these days.
Included Accessories
This trail camera comes with plenty of accessories for easy installation and use. The included accessories are listed below.
Mounting Belt
Wall Mount
3 – Mounting Screws
USB Cable
User Manual
Areas of Use
The T90 is a pretty versatile trail camera. It can succeed at taking high resolution pictures, serving as a security camera, and at taking videos of deer or other wildlife. Thanks to its wireless connectivity you have to option to place it in elevated or other hard to get to positions.
Remember to try and stick to using this Campark by food plots or similar areas that don't typically have fast-moving objects in order to avoid having videos that look choppy when recording video in 4K.
Also remember that the flash is low glow and could give away the camera's location at night when the flash is in use, which might make this model unsuitable for use in certain locations.
Price
Priced more than entry-level trail cameras the Campark T90 is one of the most affordable 4K trail cameras out there. Part of its low price probably has to do with the lower frame rate when recording in 4K, which we discussed above, but when you add in the T90's WiFi and Bluetooth connectivity, fast trigger speed, 3 motion sensors, 120° detection angle, and other strong features its price is hard to beat.
Other Options
Do you want to look at what other options are available? If so, you might want to check out our free Find Your Perfect Trail Camera Tool, which shows you trail camera options based on the criteria you select. Otherwise, we have picked out a couple of trail cameras, which are shown below, that we think you might be interested in.
Campark T85 Trail Camera
If you like the T90, but don't need the 4K video and would like to save a few dollars the lower-priced Campark T85 is an excellent choice.
The T85 and T90 share a lot of features, but beyond the lower price of the T85, there are a few differences between the T85 and T90 trail cameras that are worth mentioning. First, the camera on the T85 can capture 20MP pictures and record 1296p videos as compared to the 24MP pictures and 4K Lite video found on the T90. The T90 also sports a slightly faster trigger speed of 0.2 seconds as compared to 0.3 second speed found on the T85. One area where the T85 bests the T90 is with its no glow flash, which makes it a great choice to use in places where you want to keep the camera's location hidden at night.
If you want to check it out, we actually did a full review of the T85. Otherwise, you can see the current price of the T85 here.
If you really like the T85 you might want to check out the price on Campark's T86 trail camera. It shares the same specs as the T85, but could sometimes be priced lower if it happens to be on sale.
Campark T100 Trail Camera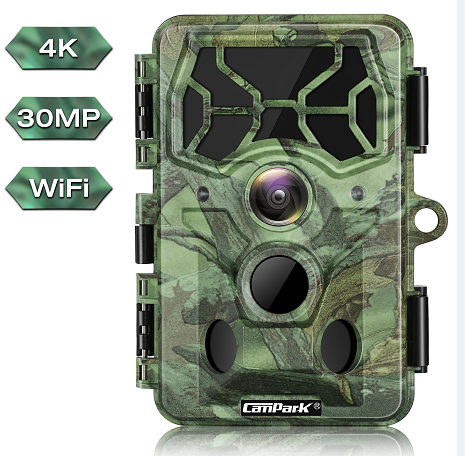 The Campark T100 is another 4K trail camera from Campark and it shares the majority of its features, including its wireless connectivity, with the T90. That said, there are a few key differences between these cameras.
The Campark T100 is just a bit higher priced and can capture 30MP pictures compared to the 24MP on the T90 However, the real reason you might want to step up to the T100 is that it can record 4K videos at 30fps, which makes it ideal for use in places where you might have faster-moving animals or other activity.
It is also fair to point out that the T90 has a 0.2 second trigger speed compared to the slower 0.4 second speed found on the T100. However, this results in a pretty minimal difference in performance – especially when you consider that both cameras have a 120° detection angle.
We actually did a full review of the T100 if you are interested in checking it out. Otherwise, you can see the current price of the T100 here.
Final Thoughts
The Campark T90 is designed for advanced hunters and outdoor enthusiasts who want to capture high-quality pictures and beautiful 4K videos. It is easy to use and has a long list of high-end features. If you are looking for a top-grade 4K trail camera on a budget, the Campark T90 is a perfect pick.
However, remember that if you plan on using the T90 to record a lot of fast-moving objects they might appear to "shudder" when you play the video back (even though the individual frame will look great when you pause the video. So if you will be recording a lot of fast-moving objects you might be happier by spending a few dollars more and stepping up to the T100 we mentioned above.
You can check the current price of the T90 here.
Last update on 2023-09-24 at 21:52 / Affiliate links / Images from Amazon Product Advertising API